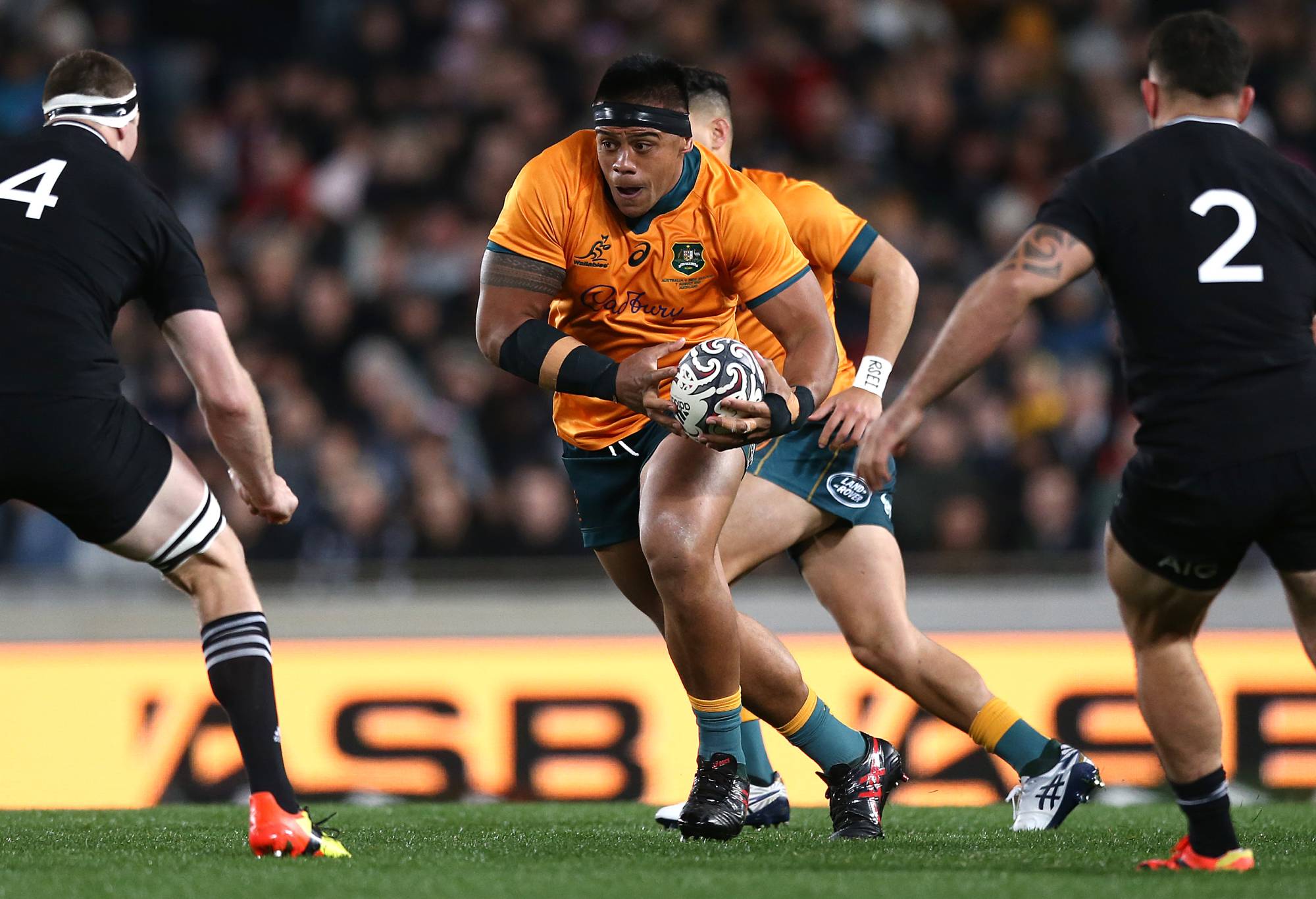 Wallabies Andrew Kellaway and Allan Alaalatoa have warned of the dangers of rushing scrums as Super Rugby officials mull over a 60 second clock to speed up the process next season.
The scrum clock was reportedly one of several potential law tweaks wanted by Rugby Australia and touted in discussions with Rugby New Zealand last weekend.
Alaalatoa told reporters on Tuesday he was concerned about the dangers of making front row forwards pack down with too much haste due to the potential of significant injuries, while Kellaway was even stronger in his opposition to the proposal.
While quicker scrums would undoubtedly make for a faster game there is another obvious concern. Cutting the time the big men have to catch their breath can only lead to greater fatigue and more accidental head collisions through tired execution in the tackle.
"As players we understand we need to put something in place to make it more attractive to the crowd. So if that's the way that we end up going then it's around what we need to do and train for," Alaalatoa said.
"We don't want to set up a quick scrum and then engage because then we put ourselves at risk of injury – our neck and our back. So if that's the way that we need to change the game, then we need to implement that first at training or at least take a year to practice that and if we don't get it right someone will get injured.
"When you're more fatigued, you're trying to rush something, you're probably going to be more at risk of injury."
Alaalatoa was asked if he felt that sometimes rule makers did so without a strong knowledge of scrum play.
"Sometimes, yeah," he said, before Kellaway, who shared a media conference with Alaalatoa, stepped in.
"We've got to be careful, don't we? It's a niche area of the game where you've got guys doing a specialist skill," said Kellaway.
"Outside backs, everybody else, we're asking these blokes to compress a spine for a living. And someone in a suit has the nerve to ask them to hurry up. 
"If I was Al, which I'm not fortunately, I'd be pretty filthy about that. I think there's so many other areas we can pick up in the game. The break down is another one before we have to start going picking on the scrum."
Kellaway was happier with two other items on the trans Tasman agenda last weekend – potentially doing away with cards for accidental knock downs, and the idea of a transfer system the allows players to travel across the ditch to play for Super Rugby teams.
"A little bit of discretion would be nice," said Kellaway, who was a vocal critic after Izzy Perese's send off against England.
"If you've got a bloke who's slapping the ball down really clearly, trying to kill the ball, kill the game like we see in rugby league sometimes, I don't think there's a place for that, but if someone's going for an intercept and they get it a little bit wrong can we really punish them by sending them off?" said Kellaway.
"I don't agree with it. I don't make the rules, we just got to deal with it. We have to be better at adapting to that and playing to those rules, unfortunately until they change, if they ever do."
Kellaway, who has played rugby in England, New Zealand and Japan as well as in Australia, welcomed the transfer rethink.
"The biggest strength rugby union has in my eyes is the fact that it's played all around the world," Kellaway said.
"We need to shout that from the rooftops so if we can get something like that going on where we can transfer guys a little bit closer to home then absolutely let's do it."
Meanwhile, a tough, no holds barred review followed the Wallabies shocking 48-17 loss to Argentina, but a fresh infusion of big personality could prove the healer the team needs ahead of Saturday's clash with South Africa.
Dave Rennie told the Herald there had been "a fair bit of poking in the chest" as the squad comes to terms with the chastening defeat by Michael Cheika's men in San Juan.
But Kellaway and Alaalatoa said the arrivals of Kurtley Beale, Bernard Foley and coach Laurie Fisher had the camp buzzing with positivity.
"The boys have been pretty gutted after that last game," said Alaalatoa.
"We spoke about it as players that we thought we had the right game plan in place from the coaches but we just weren't good enough as players to put it on the field and that's our job. We've got to be accountable on that front.
"We had some tough conversations yesterday in the review it's up to us to get better and to apply it this weekend. You know, so we've had some great additions back into the camps, with Kells, Scotty and Porecki, a bit of experience there, which has been awesome.
"But we have sour taste in our mouth. Unfortunately with our break a lot of the boys are probably thinking about it the whole time."
The Brumbies skipper welcomed the arrival; of Laurie Fisher, who has replaced Matt Taylor as defensive coach since the San Juan debacle.
"The boys in the Brums know the world class coach that he is, so for him to add that to our team has been awesome," said Alaalatoa.
".You know he's not trying to change too much seeing that it's game week, but he is trying to implement a couple of different things and add his flavor to our game model. He's in drills. He's loud. You know the boys really respect him so that's been really good for us."
Kellaway pointed to the input of Beale, who is in camp just for training purposes, and Foley.
"They're big personalities, both of them," said Kellaway. "Kurtley brings his infectious laugh everywhere he goes.
"He's bringing the morale up you know, like he's one of those guys who pumps everyone up around him ands that's a really good thing and Bernie's the same.
"They're both coming back with their own experiences from France and Japan and trying to impart that experience on a few of the younger guys and the older guy. Having them around makes everybody else feel really confident."
Rugby – The Roar