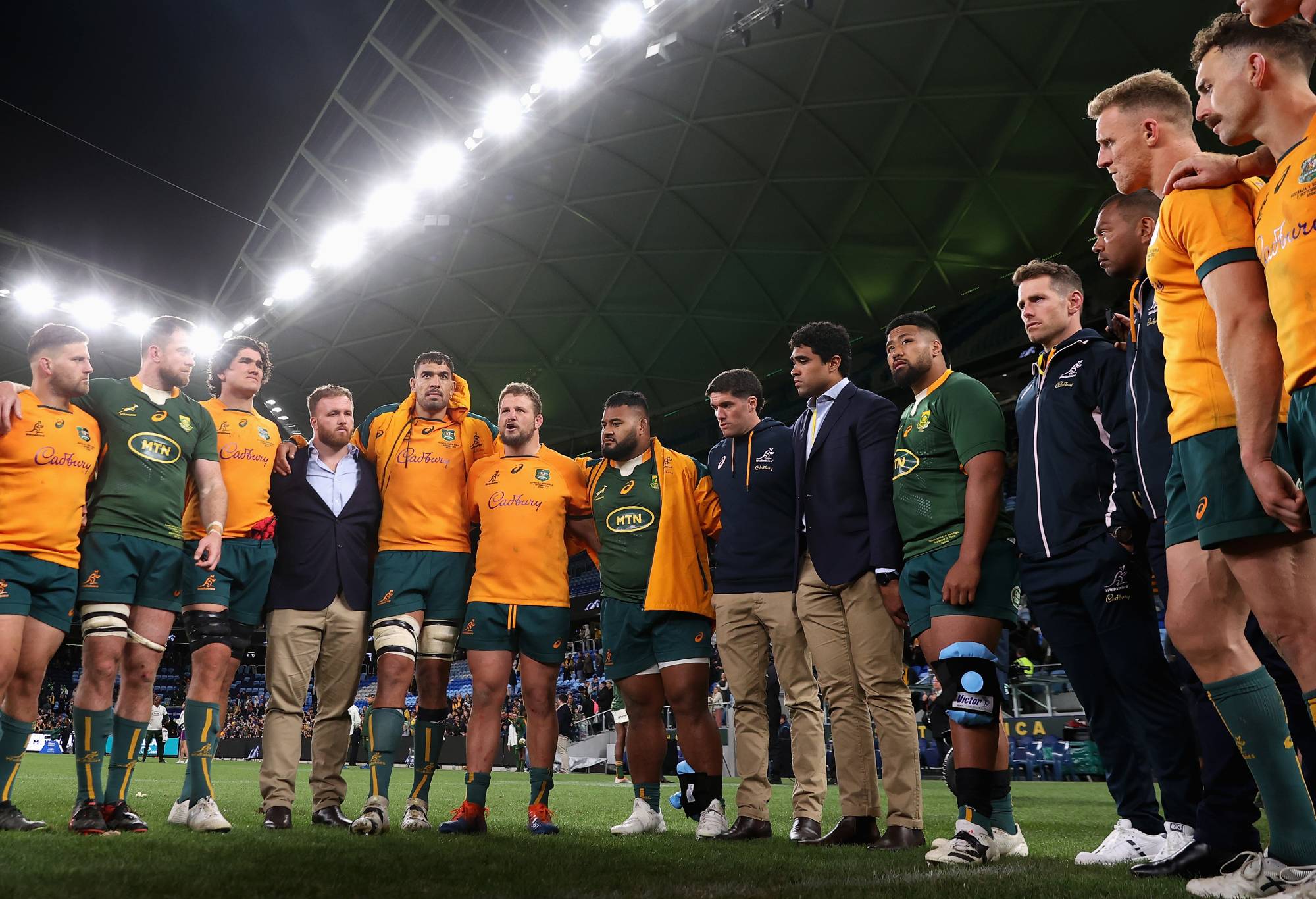 Wallabies captain James Slipper gathered his beaten team together after the final whistle of the dispiriting loss to the Springboks with a clear message ahead of the looming Bledisloe Cup campaign.
There was an incredible edge to their celebrations after their opening try but that had nothing on the reaction that followed their sealer – when winger Makazole Mapimpi blasted through injured Marika Koroibete and then taunted the Wallabies player. The ugliest clash was between Allan Alaalatoa and Eben Etzebeth.
The Wallabies lost the intensity war on Saturday as the Boks, fired up after the loss in Adelaide came out hard.
Instant Reaction podcast with Jim Tucker, Brett McKay and Harry Jones
That was all a by-product of Koroibete's hit on the Springbok in Adelaide and the visitors were riled up by the attention that try saver has garnered.
As the Boks celebrated, Stan Sport vision showed a silent Koroibete deep in thought in the Wallabies dressing room.
"As you can imagine we're pretty disappointed. It's quiet in there," Slipper said.
"I made a point after the game that this one has to hurt a lot. I want the boys to hurt because yes, South Africa were good, but I just felt like we didn't really play much rugby at all tonight.
"I just wanted the boys to realise how much it hurts and hold on to that and let that drive you into the future. We can be disappointed for a day or two but at the end of the day, we've got the All Blacks coming up in two weeks.
"If you still kicking cans around at that time, then that's not going to help anyone. I want it to hurt but at the same time I want it to be better. We got to be better. "
On the post-match chat he said: "I just put a challenge to the group essentially.
"It's tough when you're walking off the field after a loss. We've got a lot of confidence in the group that we have but we're after consistency. And that's the big driver for us. When we start seeing that, I feel like we'll see a lot of success come this way. But at this point, that's our work on.
"At no stage do we think we're the finished product. Individually, we just need to have a look at ourselves. I'm confident we're tracking the right direction and we just need a bit more polish and need to execute under pressure."
Here's what Dave Rennie said after the game
Wallabies coach Dave Rennie said he was frustrated "we couldn't give them a game" while praising the effort of the Springboks.
"Early on, they turned a bit of ball over against us," said Rennie. "A couple spat out the side and gave them momentum. They certainly defended well. We just struggled to get any continuity and they strangled us pretty well."
The Boks got the Wallabies in a stranglehold.
"I thought aerially we were excellent bar one," said Rennie, likely talking about the brilliant play where Canan Moodie outjumped Marika Koroibete to score a try on debut.
"South Africa were very good. They choked us down the far end of the field and we lost collisions early and that was frustrating and gave them momentum," Rennie said.
"There's a series of penalties which mean we got the yellow card [to Matt Philip] and so we got put under the heat early. Even without a lot of ball we rallied pretty well I thought in first half and it was disappointing to give up a try right on halftime."
He said he thought going to the sheds down 7-3 the Wallabies felt they could hurt South Africa in the second half only for Moodie to cross 90 seconds before the break.
"At the end, we weren't good enough to turn any pressure into points," said Rennie. "There were a couple of concussions tonight which affected our ability to potentially play. The biggest thing was we needed to play with a bit more optimism tonight. "We were struggling to get our game going. We needed to play with a bit of tempo and kick smarter. We kicked a lot of ball out rather than kicking long or finding grass just in behind them where there was a fair bit of space.
"Even at 17-3 with 10 to go, we felt if we could get down the other end of the field and get some continuity, maybe we could claw this back.
"There was some excellent defence in amongst what we did tonight. But  it felt like we didn't fire a shot and they were very good at strangling us, they go multi phase and then put it up in the corner and choke you down there."
On the 6-2 bench split
Rennie said he would consider going for a 6-2 bench split again, although the obvious risks came home to roost as Rennie lost Hunter Paisami and Noah Lolesio to head injuries and needed Andrew Kellaway at outside centre and scrum half Jake Gordon on the wingh.
"We did it for a reason. It was a 5-2 split tonight as it turned out," Rennie said ruefully pointing to the loss of Taniela Tupou without him getting on the field.
"That is a risk and we ended up losing a 10 and 12 and halfback on the wing and Marika on one leg for a big chunk of that second half. It worked well for us last week, maybe put us under a bit of heat tonight."
He said the team had "trained for the worst case scenario. So Kells has trained as a 13. Hodgey at 10, Jake's probably had about two moves on the wing. So not a lot but I thought I thought he was excellent, both when he came on the wing and then when we moved him into nine.
"It's not ideal. But it happens in footy nowadays but it obviously affected our  continuity of play late in the game.
"What we're looking for is consistency. Last week we had 70 minutes of excellent footy and we wanted to build on that tonight.
"International rugby at the moment is so tight and you've only got to be a couple of cogs off and you're going to end up finishing second and we've seen that right throughout this Rugby Championship.
"So we've got to be better. We've got to win those key contests and and we were well short in that area tonight. There are key areas where we've got to be better. And the tempo we needed to play at against South Africa, which we did well last week we couldn't emulate it tonight and it's disappointing."
On the All Blacks clash
Rennie said Lolesio and Paisami should be available next week – although it is right on the 12 days compulsory stand down. He was asked if Kurtley Beale and Bernard Foley would come into the mix.
"They're all possibilities," Rennie said. "We'll reassess, we'll pick another squad from an All Black campaign point of view, and we'll name that Wednesday."
 On the concussed back he added: "From an amount of days point of view, it's not an issue. They will still go through the same sort of protocols. Hunter was ruled out immediately as category one, and Noah failed his HIA –  he's certainly had headaches even after the game. So we'll assess that."
Rennie confirmed Tupou had another calf issue.
"It's almost down towards his Achilles, but it's not an Achilles injury. It's something to do with his calf," said Rennie.
"We got an update at halftime that he felt something during the warm up during the first half and so he got tested again after halftime and it was no good."
Australia can still win the trophy this season with two games to play, as can their three rivals.
New Zealand lead the way on 10 points while the rest have 9 each.
"It's a tough competition. You've got to be at your best every week to be in with a sniff," Rennie said.
"There's no shortage of motivation in this group and no shortage of belief. But we've got to win those key moments and we've got to do the basics a hell of a lot better. We were a long way away from the start we had last week."
Rugby – The Roar