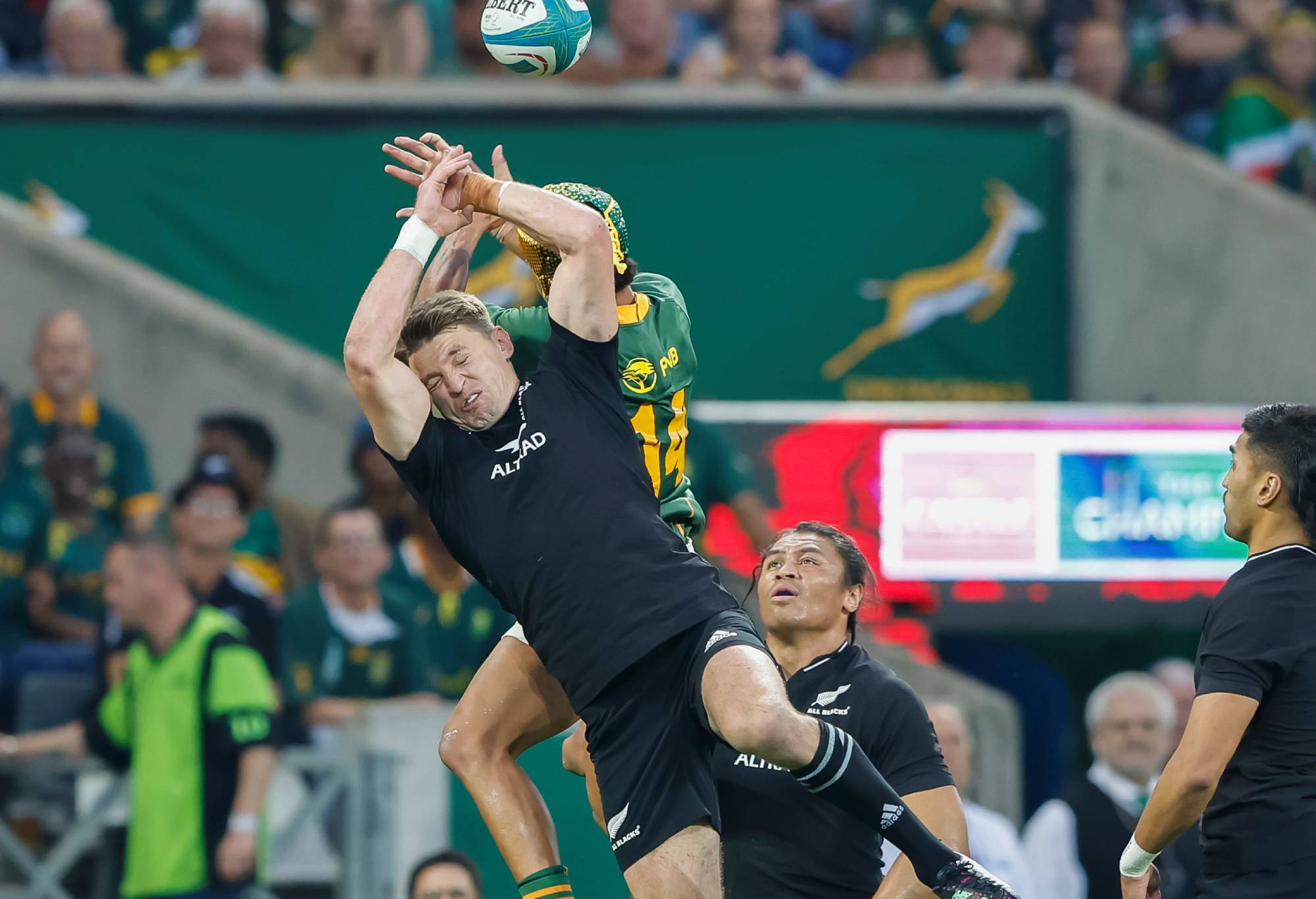 All Blacks flyhalf Beauden Barrett feared the worst after landing head-first from a terrible mid-air challenge against South Africa, but says the team will continue to be courageous under the Springboks' high ball.
Barrett was upended by South Africa winger Kurt-Lee Arendse while rising to intercept a box kick and crashed heavily to the turf late in the 26-10 defeat at Mbombela Stadium last Sunday (AEST).
Arendse was red-carded and subsequently suspended for four matches.
"It was quite a big collision and I did think the worst instantly – especially when I was on the ground and – I can't remember who it was – told me to stay still," he said in a video released by the All Blacks.
"It wasn't until (the doctor) came on and asked me, 'Can you move your fingers? Your toes?' I was relieved to have passed those tests. I eventually sat up and was able to walk off and get on with it.
"But there was a fearful period there for a minute or so where you do think of the worst. It's quite scary when you go over backwards and you find yourself come down on your head and shoulders."
Building pressure with high kicks has long been part of South Africa's gameplan but it left All Blacks staff with a sour taste in Mbombela.
Arendse also clattered into Barrett's fullback brother Jordie in a mid-air contest but did not draw a penalty, triggering a complaint about the officiating from All Blacks coach Ian Foster.
The teams meet in their second Rugby Championship clash at Ellis Park on Saturday.
Barrett said the All Blacks must do more to protect their teammates under the high ball.
"It's something we expected from South Africa in terms of the high-ball collision and contest," he said.
"I don't think they'll change anything.
"We'll continue to be courageous and get up.
"Our escorters have to …. legally stop that chaser from running a good line and allowing that mid-air collision."
Barrett's place at flyhalf is expected to come under threat from Richie Mo'unga when the team is announced on Thursday for the second Test.
Embattled coach Ian Foster has been urged to make some 'Hollywood' selection calls by New Zealand Herald rugby writer Gregor Paul.
"This is the Hollywood moment, so there needs to be more than a little tweaking and tinkering. There has to be some high-risk, potentially high-reward selections that acknowledge that the team isn't going to magically fix itself by turning up with largely the same personnel in the same positions trying to execute the same gameplan," Paul wrote.
"A serious overhaul of personnel would fit the Hollywood need for drama – a coach in desperate need of a new narrative uses his last chance for salvation to boldly pick a team that no one thought he would."
Paul has urged Foster to give a debut to young prop Fletcher Newell.
"His leeway in the forwards is certainly limited, but the shock and awe option would be to start with a front-row of Ethan de Groot, Samisoni Taukei'aho and Fletcher Newell," wrote Paul
"Throwing Newell an Ellis Park debut at tight-head would be fantastically bold, but there's a few good judges who reckon, even though he hasn't played a Test and is only 22, he's the best tight-head the All Blacks have in South Africa."
Paul wants to see Mo'unga at 10 and has also urged bravery from Foster in the centres.
"The absolute wild card selection would be to drop Rieko Ioane to the bench and pick Leicester Fainga'anuku at centre," he wrote.
Meanwhile Paul's NZ Herald colleague Liam Napier suggests Foster might be ready to bet his future on NRL convert Roger Tuivasa-Sheck.
Iain Payten of the Sydney Morning Herald joined The Roar rugby experts Brett McKay and Harry Jones from the Wallabies tour in Argentina for a deeper review of the win in Mendoza, the impact of Michael Hooper's sudden withdrawal and a look ahead to the second game of the tour in San Juan
"David Havili and Rieko Ioane's combination proved disjointed and could be revamped. Foster may have one big, bold play left," wrote Napier.
"And there would be no bigger gamble than throwing Roger Tuivasa-Sheck in at second-five. It could only be remotely justified on the familiarity of having Blues team-mates Beauden Barrett and Ioane on either side.
"Foster showed faith in Tuivasa-Sheck's previous big-game NRL experience to hand him a debut off the bench in the deciding third Irish test in Wellington, and the embattled coach is a noted believer in backing combinations."
Over at Stuff, Marc Hinton felt the end could be nigh for Foster.
"Could this be Ian Foster's final All Blacks team? And, more to the point, how could he dare not swing for the fences with a lineup to potentially change the narrative on a team sinking faster than Donald Trump's presidential prospects," Hinton wrote.
"The word is that Foster is set to spring a few surprise selections in the wake of his team's 26-10 defeat at Mbombela Stadium that consigned the All Blacks to a fifth loss in their last six tests and the coach most likely to the scrapheap.
"What has he got to lose?
"New Zealand Rugby chief executive Mark Robinson is hovering here in the City of Gold and it is hard to see how he is not about to light the fuse on an All Blacks coaching rebuild in a process that is surely well under way.
"Maybe the "something special" that Foster defiantly suggests is brewing this week saves his job. But it is doubtful. Both that it plays out and that it will be enough to earn a reprieve. The damage has been done and it is likely Plan B has been already enacted. Or soon will be."
The media focus on Foster has been incessant, and will continue to be despite a warning from former All Black Julian Savea.
"Shocked and disturbed at some of the comments and remarks I've seen and heard about Ian Foster on social media lately," Savea wrote on his Twitter account.
"In a country where mental health is a big issue, where 72 per cent of suicides are men and a high number of depression amongst men, you would think people would be a bit kinder and think about their words before they make remarks on someone's integrity, appearance and character, especially when they don't know them on a personal level.
"I'm ashamed that this is how a human is treated and dragged in the media here in NZ."
Rugby – The Roar