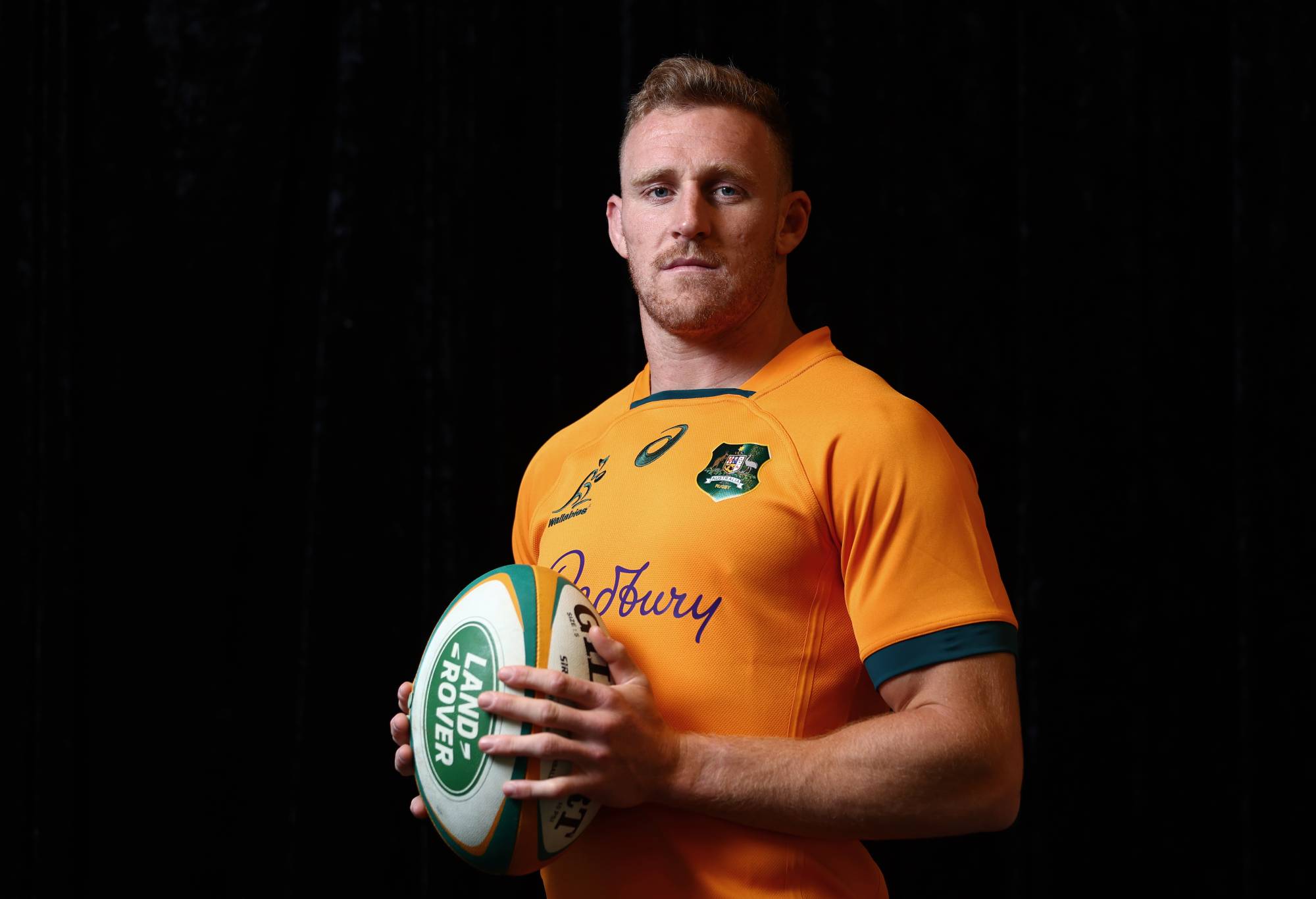 Reece Hodge has won the tightly contested battle to wear the Wallabies No.15 jersey for the Test against the Springboks in Adelaide on Saturday.
Coach Dave Rennie is expected to ease Andrew Kellaway back into action from a wing after his seven-week injury layoff – but Hodge will start at fullback according to Wallabies sources.
Last week, Rennie was talking up the depth in the position and he's opted for the long-range kicking prowess and safety under pressure of Hodge, who will replace Tom Wright.
Wright was used in the role against Argentina but, along with the rest of the back three, was badly exposed by the Pumas' contestable kicking game.
High kicks are sure to rain from the Adelaide afternoon sky again on Saturday.
"We have used a few back there," Rennie said last week. "Tom Wright's done a really good job for us at 15. He probably made a few errors last week that he's disappointed about but we're starting to create genuine depth there.
"We're confident 'Kells' (Andrew Kellaway) can play back there as well. You've seen 'Hodgey' (Reece Hodge) play there and Jordie [Petaia} had about two minutes before getting himself knocked out in the second Test against England.
"It wasn't that long ago we had real question marks around the depth of that position but we do have options and we really want someone to nail it."
There have been calls for Rennie to consider Queensland's Jock Campbell, but the coach seems not to fancy him for his 23 despite talking him up last week.
"(Campbell) an excellent player, that's been a great thing about having him in the camp – we've got to learn more intimately about him. He's a very, very good footballer and very smart, a bit of a Conrad Smith-type of player in the back three. Just a really good rugby brain and very efficient skill set," said Rennie.
Hodge continues to patch holes in Rennie's backline. He came off the bench to play at flyhalf when Quade Cooper was injured in the first Test against Argentina. James O'Connor replaced him for the 48-17 loss on Mendoza and has subsequently found himself out of the squad altogether.
Noah Lolesio will take back the No.10 jersey in Adelaide, and needs a big performance to hold out returning veteran Bernard Foley.
The Springboks clearly expected Foley would be named later today, with several of their interviews this week focussed on the 71-Test flyhalf returning from Japan.
Rennie was due to name his squad at 1pm AEST Thursday – approximately 65 hours after the Springboks revealed their 23 for the game.
Wallabies assistant coach Dan McKellar said there was some benefit to the Australians having been able to prepare for days knowing what was coming from South Africa.
"It helps to a certain extent," said McKellar. "They've got two good young halfbacks who kick the ball a lot. One's a left footer and one's a right footer so we now know that Faf De Klerk starts. Things like that help to a certain extent, but in terms of who's wearing what jersey and that sort of thing, it doesn't change a whole lot.
"It's more just around the skill set of an individual player, I suppose. But overall, we're going to just worry about focusing on getting our own on performance right before stressing too much about the Springboks."
South African YouTuber Riaan Louw joined The Roar rugby experts Brett McKay and Harry Jones for a fun-filled chat on why the Australia-South Africa rivalry is so friendly, on the most-loved and most-ignored rugby stats, on weird rugby fantasies and how the Wallabies v Springboks series will play out
The Boks left punishing hooker Malcolm Marx on the bench to provide late impact. That decision has concerned South African pundits and bemused Australians, but McKellar said it was a sign of the times.
"These days, the game's about 23 players," said McKellar. "It's not about the 15. Test matches are won and lost most times in the last 20-25 minutes. He'll play big minutes. When there's a bit of fatigue that sets in, his skill set becomes even more dangerous when he's fresh.
"His form in and around the tackle contest at the moment is equivalent to David Pocock. He's red hot with his poach work.
"He'd probably like to be playing 80 minutes, but I'm sure he understands his role within the group. They go about making sure they've got a really strong finishing pack and as you can see from selection, they've certainly got that.
"Whether it's the first 50 minutes or the last 40 to 30 minutes he's certainly someone that is going to challenge us in and around the breakdown."
Australia have a choice to make around their own No.2 with Folau Fainga'a and Dave Porecki to choose from to start.
Laurie Fisher joined the team this week to help shore up the defence following the exit of Matt Taylor on the back of the loss in Mendoza.
"We've worked together for the best part of a decade," McKellar said. "We know each other's styles and we work well together.
"One thing with Laurie off the back of his experience and knowledge and years and years of coaching, he doesn't come in and dip his toe in, he comes in and he's very clear with what he wants and the players understand that which is most important – real clarity around what his expectations are from a defensive point of view."
Rugby – The Roar