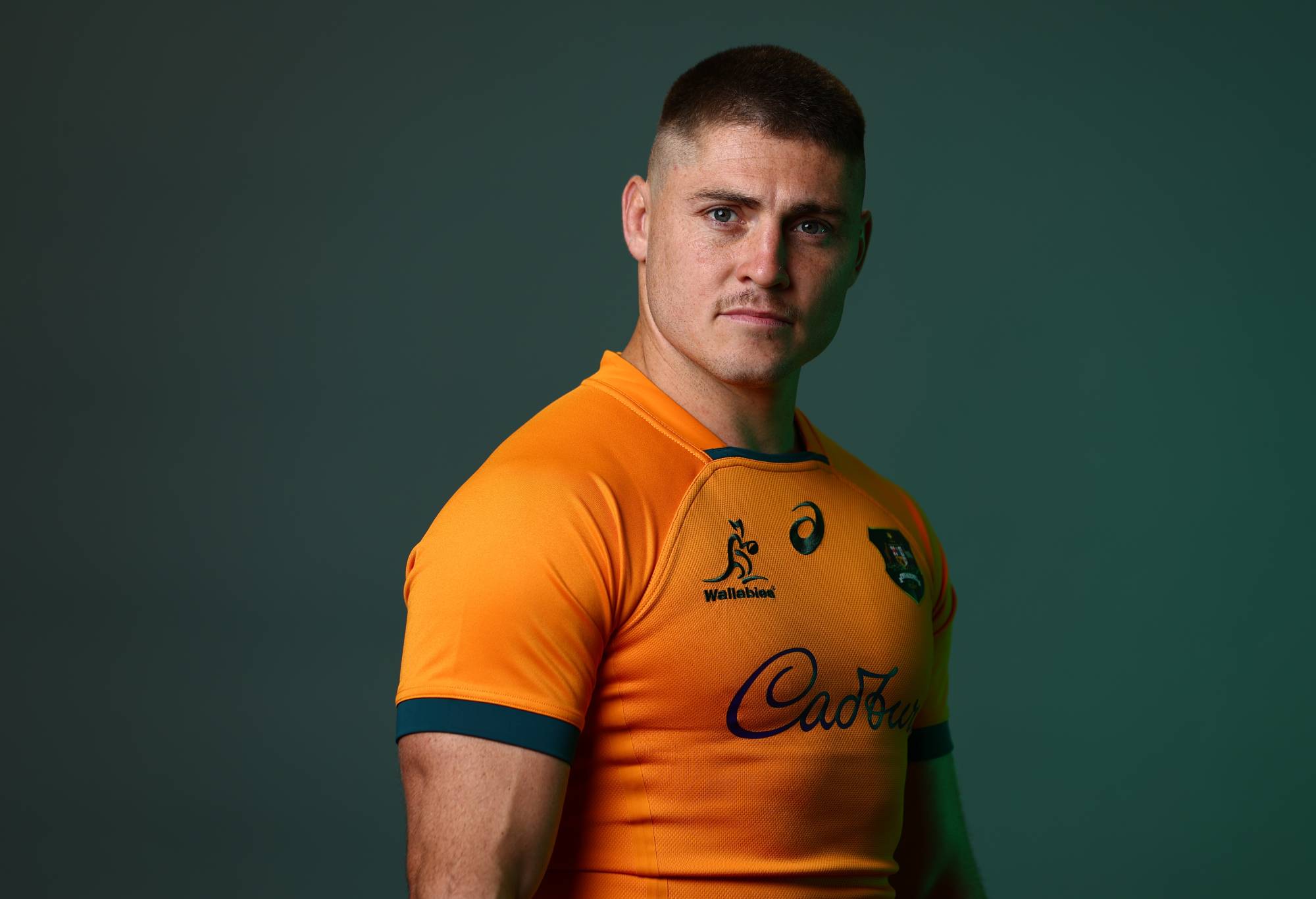 Wallabies coach Dave Rennie admits James O'Connor was "devastated" by an axing from the squad for the Tests against South Africa which might have ended the veteran No.10's international career.
Rennie's incessant tinkering at No.10 continued on Thursday when O'Connor went from the starting flyhalf 10 days ago to completely missing out on the 35-man squad as Bernard Foley returned to the fold for the first time since 2019.
The state of the 10s was a big talking point when Rennie faced the media after announcing the squad. Here's everything he had to say on that, and the rest of the squad news.
On JOC and if he was injured or dropped
"We've left James out. Bernard comes in and we've still got Noah [Lolesio] and we've got Hodgey [Reece Hodge] who's played a bit of 10 for us in recent weeks," Rennie said.
"James got a crack in the last Test, we thought his experience would be really important and wanted him to drive the ship and allow us to implement our plan, and we were pretty clunky, to be honest, lacked cohesion, and so he's missed out on selection."
Rennie spoke to JOC before the team was made public, and there will be more discussion in the coming days.
"I won't give you all those details but as you'd imagine he's pretty devastated," Rennie said. "He's desperate to be a Wallaby.
"He's going to ensure that he keeps himself in good nick. As we know, based on injuries this year, opportunity could be around the corner. We'll get together with him prior to the squad assembling just to sit down and go through his game. Give him clarity around the shifts we need to see if he gets another opportunity with us."
Those shifts will need to be in his game, rather than his body.
"He's worked to get himself in really good shape, so the issue from the weekend wasn't physical," Rennie said.
"He's convinced that he can implement the plan that we want. It's difficult to do it when you're not in the squad. Should he get another opportunity with us he needs to highlight that he's made some shifts."
Rennie acknowledged that the flyhalf role was a problem area.
"It's such a massive position for us, isn't it? Obviously, Quade's injury, getting into the England series, and then the Achilles issue beyond that has given opportunities to Noah to play a bit more.
"Even when we bought Quade back and we went to 6-2 split that's when Hodgey's versatility comes in at the expense of having Noah on the bench in either of those Tests.
"There's certainly going to be opportunities over the next few weeks for someone to grab that position."
On Noah Lolesio and how he's been handled
Rennie said Lolesio had a good chance of starting against the Springboks in Adelaide with Foley getting up to speed.
"We were very tempted to start Noah in the second Test [in Argentina] but we thought that we needed to find out where James was at and to give him an opportunity to play at 10," said Rennie.
"You can see, based on selection [of this squad], where we see Noah. He's a strong chance to be involved next week, he's worked really hard on the little areas that he needed to make shifts beyond the England series. He's a good kid and he's played a lot of big rugby for a young man – just about all his Tests have been against the top four sides in the world.
"We definitely feel he's going to be an excellent international 10, so you'll see him feature during this series."
Rennie was asked if the constant chopping and changing at No.10 and in the backline had made it tough for Lolesio to get settled into international rugby.
"That's fair and when you look at it, a lot of those have been forced on us through injury," said Rennie.
"Ideally we'd like to get a consistent side out week in, week out, but we haven't been able to do that. If you look at last weekend while there were disappointments within that performance, I thought guys like Lalakai and Lenny were very good, as was Bobby Valetini.
"So ideally we'd like to get consistency around that, but I think the first four Tests we started four different 15s and they were all based on injury. So we're getting a handful back this week and hopefully we can get some consistency around selection over the next few weeks."
Rennie added on Lolesio and why he's missed out since the England series: "At this level, you've got to earn the right to play. He's certainly trained very well.
"We've made decisions on what we thought was best for the squad on the day and as we've talked about, Hodgey's versatility, his ability to cover 10 but also cover both wings and fullback, we see him less as a midfielder even though he's played international footy there as well.
"If you look at the last game, it gave us a chance to have a specialist nine, specialist midfield cover, as well as Hodgey covering everywhere. We haven't lost confidence in Noah. We're confident that the shifts we've asked him to make we'll see in his next performance."
On the return of Foley
Rennie said he had spoken to Foley about a potential comeback last season.
"He was serving out a suspension at the time back in Australia, and wasn't really in a position to join us at that stage," Rennie said.
"And we've kept in contact since, and obviously with Quade's injury, his availability, we started having the conversation basically after the first Argentinian Test."
Foley hasn't played since May 22, meaning it's a big challenge to have him up and running in time to face the Springboks on August 27.
"He hasn't played a lot of rugby lately. Since the Japanese season finished, we've got a lot of our game plan stuff to him to get a bit of a study and he's been doing additional training.
"He's in Sydney this week and our staff have been having a decent look at him. But we're conscious, like we were with Rory [Arnold in Argentina] that we've got to make sure he's ready to go; we waited until the second Test with Rory and we'll make a call with Bernard once we've got him into camp on Sunday."
On building No.10 depth
Rennie was asked if there was a temptation to add another of the nation's young flyhalves – particularly Ben Donaldson or Tane Edmed – to the squad.
He revealed one project flyhalf would come in but opted not to name which one.
"We've talked a lot about that and we'll bring one young fella in from outside the selected group to spend a bit of time with us," said Rennie.
"We definitely need to accelerate the development of the young men coming through and so that's the plan. But we'll let you know who that is on Sunday."
On Jock Campbell and the other No.15 contenders
"He's an excellent player, Jock," Rennie enthused. "That's been a great thing about having him in the camp – we've got to learn more intimately about him. Very, very good footballer. Smart. A bit of a Conrad Smith type of player in the back three. Just a really good rugby brain and very efficient skill set.
"We have a few back there. Tom Wright's done a really good job for us at 15. He probably made a few errors last week that he's disappointed about but we're starting to create genuine depth there.
"We're confident [Andrew Kellaway] can play back there as well. You've seen Hodgey play there. Jordie had about two minutes before getting himself knocked out in the second Test against England.
"It wasn't that long ago we had real question marks around the depth of that position but we do have options and we really want someone to nail it."
He was asked what the chances of Petaia moving back to No.15 were.
"It's a definite possibility," Rennie said. "The thing with Tom Wright, and why when we brought Jordie back and left him on the wing, Tom's communication is excellent. So is his ability to organise people in front of him.
"He's got a very good skill set and he's very quick, and speed at 15 is a real asset for us.
"Jordie has a similar skill set and we want to see him own the back area vocally and have the ability to boss others around and organise people in front of him. He's made really good shifts in that area and he's made big shifts around his work rate off the ball. He's a genuine option."
On Michael Hooper's status
Rennie said he and Hooper, who is taking a break due to mindset issues, have "spoken a number of times," adding "we're not in a position to discuss that in detail and we've got no firm timeline as to when he'll return."
On Kurtley Beale's non-selection
Beale is close to recovering from injury but these two matches came too soon for him to be selected.
"Kurtley's been back a little while, he's just been training so he's over the injuries regarding the hamstring and calf, and the hamstring injury was significant," said Rennie.
"He's lost a little bit of stuff around the middle as well, which is good. And so we're going to bring Kurtley in next week just to cast an eye over him and it's a chance for our medics and our S and C boys to cast their eye over him and get an idea of when we think he's going to be ready for Test level.
"Ideally, playing some club footy would have been great this weekend but his club's already out."
On his reaction to the Argentina loss
"It was a frustrating day and the boys were pretty embarrassed," said Rennie. "We talk a lot about respect being earned daily. And the character that we showed the week before, under difficult circumstances was massive for us. So to not back that up was massively disappointing."
Rennie listed several missed opportunities and said his team blew six potential tries while gifting the Argentines some easy points.
"It was a hugely disappointing way to finish, conceding a couple of tries in the last couple of minutes, but we've just got to be better," said Rennie.
"People want to talk about who's missing but we had a good enough side on the field to win that. We've got to perform better regardless of who's in the jersey. It was a tough, tough feeling on the plane on the way out, put it that way."
He was asked if he ever blasted his players after a poor performance.
"The emotion's got to fit the situation," Rennie said. "They got a little bit at halftime and they got a fair bit after the game, but I think it all needs to be measured. As we've talked about, we've got a responsibility to the country and that wasn't good enough."
He was asked if he felt that his message was getting through and landing with the players as common complaints over their lack of tactical discipline resurface.
"Well, you could query that, couldn't you?" said Rennie. "We've got a bunch of men, they're certainly working hard, but you've got to show that on Saturdays.
"We played good rugby at times during the England series, but you've got to win big moments. Last weekend was way under par. Not good enough. We get a chance to respond against the world champions in a week or so."
On the Wallabies need to make a statement against the Springboks
"We know it's massive," Rennie said. "You look at the Springbok side, it's very, very strong. It's almost at full strength and they'll be grumpy after their second Test lost to the All Blacks. We're well aware of what's coming. Based on last year's couple of wins, that'll only create a bit more of an edge for the Springboks. We're going to have to be at our best, no doubt, and it's a massive series for us."
 Wallabies squad for South Africa Tests (age, team, Tests played)
Allan Alaalatoa (28, Brumbies, 56 Tests)
Rory Arnold (32, TBC, 30 Tests)
Angus Bell (21, NSW Waratahs, 19 Tests)
Jock Campbell (27, Queensland Reds, uncapped)
Pone Fa'amausili (25, Melbourne Rebels, 1 Test)
Folau Fainga'a (27, Brumbies, 29 Tests)
Lalakai Foketi (27, NSW Waratahs, 2 Tests)
Bernard Foley (32, Kubota Spears, 71 Tests)
Nick Frost (22, Brumbies, 4 Tests)
Langi Gleeson (21, NSW Waratahs, uncapped)
Jake Gordon (29, NSW Waratahs, 13 Tests)
Reece Hodge (27, Melbourne Rebels, 57 Tests)
Jed Holloway (29, NSW Waratahs, 2 Tests)
Len Ikitau (23, Brumbies, 17 Tests)
Andrew Kellaway (26, Melbourne Rebels, 14 Tests)
Marika Koroibete (30, Saitama Wild Knights, 47 Tests)
Rob Leota (25, Melbourne Rebels, 10 Tests)
Noah Lolesio (22, Brumbies, 12 Tests)
Lachlan Lonergan (22, Brumbies, 6 Tests)
Tate McDermott (23, Queensland Reds, 17 Tests)
Fraser McReight (23, Queensland Reds, 4 Tests)
Hunter Paisami (24, Queensland Reds, 18 Tests)
Jordan Petaia (22, Queensland Reds, 20 Tests)
Matt Philip (28, Melbourne Rebels, 24 Tests)
David Porecki (29, NSW Waratahs, 3 Tests)
Pete Samu (30, Brumbies, 24 Tests)
Scott Sio (30, Brumbies, 71 Tests)
James Slipper (33, Brumbies, 119 Tests)
Darcy Swain (25, Brumbies, 13 Tests)
Taniela Tupou (26, Queensland Reds, 42 Tests)
Rob Valetini (23, Brumbies, 23 Tests)
Suliasi Vunivalu (26, Queensland Reds, 1 Test)
Nic White (32, Brumbies, 52 Tests)
Harry Wilson (22, Queensland Reds, 11 Tests)
Tom Wright (25, Brumbies, 14 Tests)
Rugby – The Roar