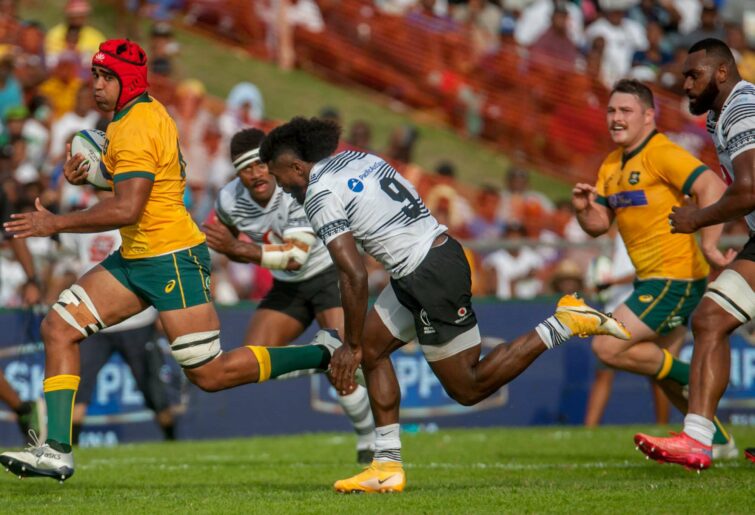 The strength and conditioning people at Rugby Australia thought there must be some mistake, because surely the 20-year-old, 188-centimetre, 107-kilo No. 8 wasn't the fastest man at NSW Waratahs.
Was he?
Seems he was.
Seems that Langi Gleeson's time over the 40-metre dash was only equalled by winger Dylan Pietsch.
Gleeson's Waratahs and Manly Marlins teammate Max Douglas confirms it: Gleeson's time was literally unbelievable.
Sports opinion delivered daily 
"People didn't believe it. When he first started punching numbers in the [Waratahs] Academy, Rugby Australia called up the Tahs to check," Douglas says
"They thought there'd been a mistake."
Another Marlins teammate, former Waratahs and USA hooker James 'Cecil' Hilterbrand, says that not only was Gleeson the fastest but he was lifting ridiculous numbers in the gym.
"He was lifting so much they asked him to slow down," Hilterbrand says. "They said he was strong enough.
"The guy's a physical freak. He's a powerful runner, he can hit hard and he can play for 80 minutes."
And now he's with the Wallabies. And if his form against Tonga and Fiji in the Pacific Nations Cup is any indicator, Australia may have a hot one.
Hilterbrand recalls a Shute Shield game in June against Sydney University at Uni's Oval No. 2.
Gleeson was taking the ball up when Uni's winger "jammed in maybe four or five [markers] off the edge and put a decent shot on him, folded him", as Jorge Taufua was known to do for Manly Sea Eagles.
There followed a scrum in which Gleeson, fumes coming out of his nose, made his intentions clear, according to Hilterbrand.
"He looked up from the back at No. 8 and said to the whole of their forward pack, 'You are all f***ed'.
"They shit themselves. They all looked at their winger and said, 'Why'd you do that?'," Hilterbrand laughs.
Had one of their number sledged Gleeson?
"No, they didn't," Hilterbrand says. "It's very much 'don't poke the bear' with that fellah."
Manly would beat perennial powerhouse Uni 20-10.
On top of a matchwinning try in the year's first derby fixture against Warringah Rats at Rat Park – when he beat three defenders and made something from nothing – Hilterbrand points to last weekend when the Marlins went down at the death in the Shute Shield quarter-final against Eastwood despite Gleeson trotting out a typically inspirational play.
"I was just outside him in the line and we gave each other good chat – 'get up, get up' – and he put a shot on their tighthead prop.
"And that guy wasn't just seeing stars, he didn't know if he had COVID. He was very confused how quick Langi had got up on him, how hard he had hit him.
"It was maybe 20 or 30 metres off their line. And Langi just got up and crunched him.
"It was very good," Hilterbrand says.
Douglas says Gleeson is "great to play with".
"He's got the big shots, the big charges.
"We played together in a Waratahs A game, it was a really stacked side. There was myself and Sam Wykes in the second row. Lalakai Foketi was playing 12.
"The majority of the boys on the bench had played in the Super side the weeks before.
"Langi got man of the match. And they signed him off the back of it. That was where he was 'discovered', I guess," Douglas says.
Gleeson's rise has been meteoric if bumpy. There was a season in rugby league and much time lost to COVID and injury.
It's like he's come from nowhere. One minute he's bopping about at Manly Oval. Next thing he's in the Wallabies squad to face South Africa, the latest product from the Marlins 'Wallabies factory' after Dave Porecki and Cadeyrn Neville debuted – alongside another Marlins old boy Michael Hooper – against England in July.
"His ascension's been weird," Hilterbrand says. "He was in that grey area where he wasn't playing for NSW but he also wasn't playing club rugby. There were a couple of years he dropped off the radar in terms of playing."
Gleeson came back to Manly for the 2021 season and hurt his knee in a trial against Randwick. He was still part of the Waratahs strength and conditioning program and spent his time effectively lifting weights.
Douglas reckons it was almost a blessing. "He didn't play much. He just got stronger and stronger."
Off the field Douglas says Gleeson – born and bred in Sydney to an Australian dad and Fijian mum – is like a "stereotypical Fijian".
"He's quiet early on. But he's a funny and good fellah when you get to know him. He's a very good man," Douglas says.
Hilterbrand agrees.
"He's like Jekyll and Hyde.
"Off the field he's the calmest, nicest fellah; a typical Islander, very respectful, very humble, wouldn't shout if a shark bit him … until he's got the ball in hand and someone's running at him.
"Then he becomes this physical freak."
Rugby – The Roar