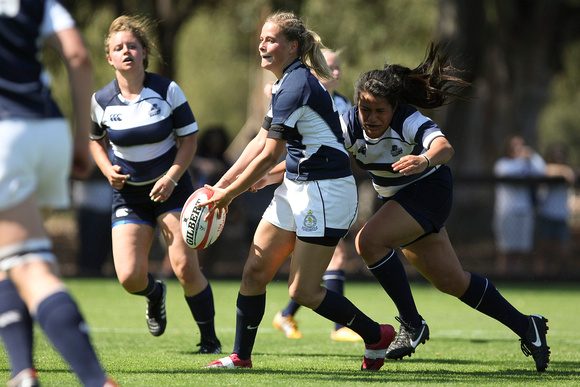 The College Rugby Association of America (CRAA) has confirmed details for its 2022 national and spring 15s championships. On Saturday, April 30, four finals will take place inside Aveva Stadium, home of Major League Rugby's Houston Sabrecats, in Texas. All of the games will be live-streamed on The Rugby Network.
CRAA CHAMPIONSHIP 15S SCHEDULE
(All times Central)
12 p.m. Women's Spring Division II Championship
2 p.m. Women's Spring Division I Championship
4 p.m. Women's DI Elite National Championship
6 p.m. Men's DIA National Championship
The College Rugby Association spring championships weekend is set for April 30 at Aveva Stadium in Houston with four major titles set to be handed out.
Three of those will be for women, including the Spring Championships for D2 and D1. The D2 semifinals will actually be held on Friday, April 29 leading into the championship day.
The National D1 Elite championship game will also be held. That championship is formed from the four D1 Elite teams, who have been building toward April 16's semifinals, with Central Washington at Life and Penn State at Lindenwood.
The winners will meet up in Houston.
And then there will be the men's D1A Championship game. Who plays in that remains up in the air with an Eastern bracket of six teams and a Western bracket of six teams to be confirmed. Lindenwood, Texas A&M, Army, Cal, and BYU have been confirmed as conference champions. Ohio State is a conference champion but has bowed out of the playoffs, and Saint Mary's has, according to our calculations, also clinched with one game to go. So that's six teams set, with another six at-large seeds to be finalized. The first round of D1A playoffs will be April 9, with the quarterfinals between the winners and teams that received a bye taking place April 16. The semis will be a week later April 23.
Dubbed the College Rugby Association of America 8×8 Sports XVs Championship Weekend, the event will see all four finals played in the stadium and all four shown live on The Rugby Network.
Here's the schedule:
12:00pm Division 2 Women's Spring Championship
2:00pm Division 1 Women's Spring Championship
4:00pm Division 1 Elite Women's National Championship
6:00pm Division 1A Men's National Championship