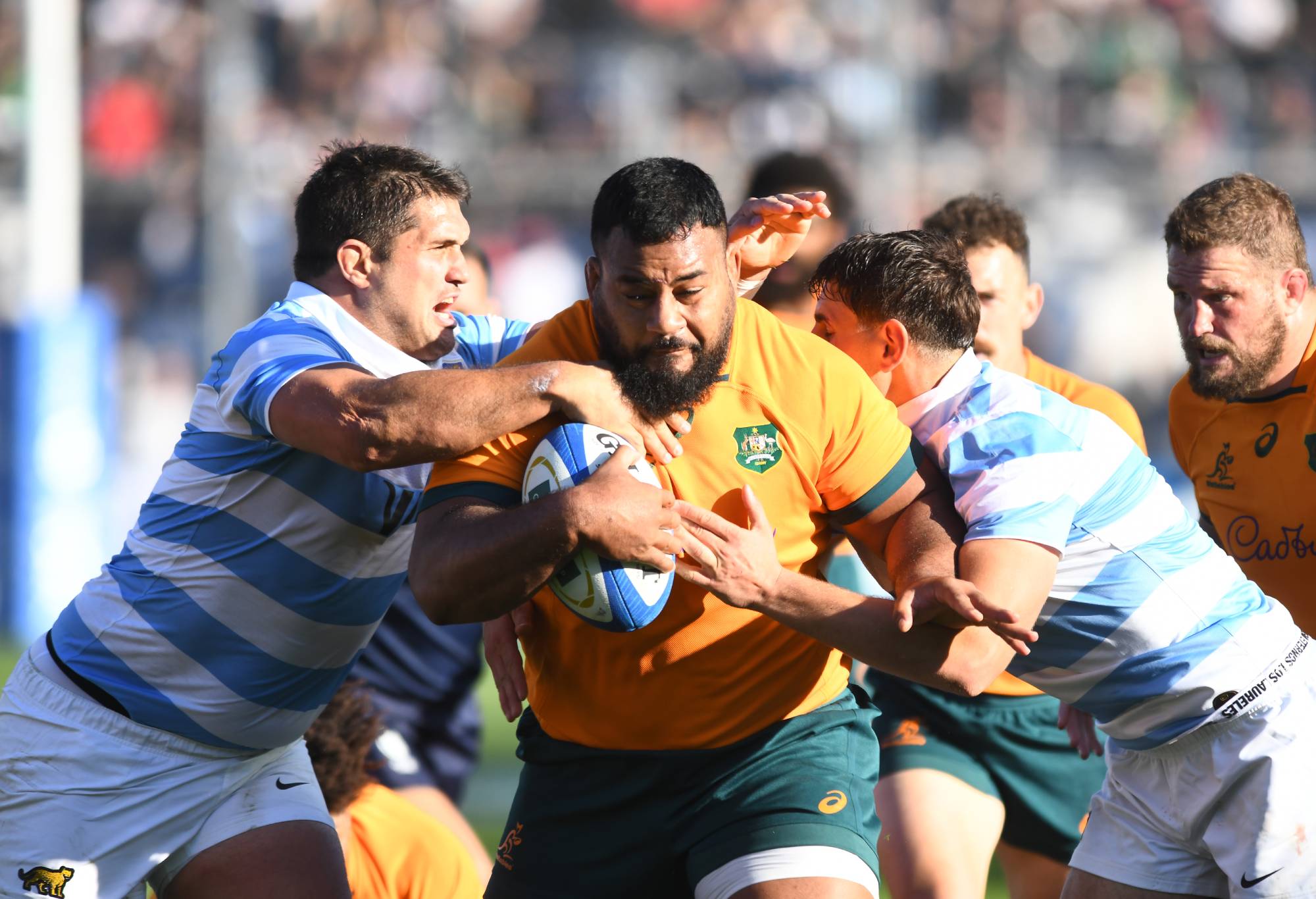 Wallabies coach Dave Rennie says Taniela Tupou knows he needs to perform better after some underwhelming performances in the Wallabies Tests this year but expects to see "a different creature this week."
Tupou's form as a replacement in Adelaide, and the performance of Australia's lineout were the two main areas of concern as the Wallabies look to win back-to-back Tests over the world champions on Sydney on Saturday night.
Having named an unchanged starting XV in for the first time as head coach of the Wallabies, along with just one change on the bench, Rennie was hopeful the stability would prove productive against a Springboks team that made eight changes to their starting line up.
Here's everything Dave Rennie said at his press conference on Thursday
On picking the same team
"It helps and it's good to reward the guys who played last week," Rennie said of being able to name 22 of the 23 from the win in Adelaide.
"We've got the same enemy and we can build on those combinations which is nice, so it's good to be able to pick the same XV."
With the Springboks team in flux, Rennie if that gave him more confidence of repeating the win.
"The depth in the Springboks is phenomenal," said Rennie. "They've made changes, I'd imagine some based on form and some based on injury. Wwe've been through that as well and you just focus on who you've got, and you get on with it.
"What we know is that it's still a quality Springboks side, there's a little bit of youth and energy included, so we're well aware of the threat they pose."
On the introduction of Canan Moodie
The selection of 19-year-old winger Canan Moodie will be one avenue for "youth and energy" from the Boks.
Asked what the young Blue Blls winger will bring to the contest, Rennie joked: "Hopefully very little."
He added: "Our job is to shut down the space; he's lightning, he's got great pace, so if we're kicking the ball to him it needs to be contestable to eliminate those opportunities.
"And we need to do a good job up front to put us in the right parts of the park to take him out of the game. They've got so many threats across the park, we're aware of all of those and the key thing is getting our job done.
"Our set-piece, we've got a lot more in us there, if we can rectify that, that's going to give us a chance to play more territory as we spent a big chunk of the game in our own half last week."
On the lineout issues
Folau Fainga'a and the forward pack struggled for cohesion on Saturday and that has been an area of focus this week.
"With lineouts, it's not just the hooker, it's the quality of the lift, the timing, the option that we call, and you're up against the best defensive lineout probably in the world," said Rennie.
"We've come up with a plan of how we can do that better, so hopefully you see that on Saturday."
On Tate vs Jake
Once again Rennie has shuffled his halfback back-up player. He made it clear he was happy with both Tate McDermott and Jake Gordon but wanted to keep both engaged.
"We thought Tate was very good off the bench so it's not based on form," Rennie said.
"What we've got is three excellent 9s here and we're trying to keep them all in the mix. Obviously Whitey has started every [Test], and the other guys have tag-teamed it. Back in Sydney, Jake's home town, and so we're excited that he's going to be in the mix this week."
On the impact of the bench in Adelaide, and Tupou's performances
"We were really disappointed with the impact we got off the bench," Rennie said. "It was not totally the bench [fault], but a number of guys came into the game when it was sewn up, and we had a real chance to put the foot on the throat but we turned the ball over and we were loose and defended poorly late in the game.
"We've certainly addressed that and the expectation is that we get more out of those guys coming off the pine this week."
Tupou was among those whose errors gave the Springboks a sniff and he was the lowest ranked player on The Roar's DIY ratings.
"There's no doubt we need more out of him, he made an error early, he missed a tackle and then he got penalised at a scrum and he had to deal with those setbacks," Rennie said.
"But he's had a great training week, he's well aware that we need more out of him, he's an important player for us no doubt, so expect to see a different creature this week."
Rennie was asked about Tupou's mindset after another below par outing.
"He's as good as I've seen him within the group. He's really happy, a [new] father and I reckon when you have a kid you've got more to play for – you become less selfish," Rennie said.
"I reckon guys that I've coached who've had children have played their best footy. That's what we expect from Nela. He's in a really good space. We just need to see that on Saturdays. The last couple of outings haven't been as good as what we saw earlier in the year.
"Like all players, we're asking for more. And especially when they get their chance to come off the bench. It might only be 30 minutes, [but] you've got to work hard to make the most of it."
On Noah Lolesio's pass for Fraser McReight's try
McReight's second half try made the game safe for the Wallabies, giving them the buffer down the stretch that the Boks couldn't breach despite their late burst.
In the lead up, Lolesio threw a brazen flick pass to his flanker, a super confident moment of skill but one which Rennie didn't fully approve of.
Asked if he had words with Lolesio over it, Rennie smiled and said: "Yes I did. We do a lot of creative passes. And that's flicked passes and little netball and basketball passes and so on because sometimes those passes are applicable for the situation and so if that's the pass that you need to throw in, we want guys that have the skill set and the confidence to do that.
"And it probably wasn't one of those situations. A simple step back and draw and pass would have sufficed. We had a light hearted chat about that. It's always good to joke about it when it's been successful but it could have been disastrous, so we'll leave it at that."
On Wednesday, assistant coach Scott Wisemantel said the coaches wanted to see more aggression from Lolesio, and Rennie said the young Brumby was tracking well despite an inconsistent run in the No.10 jersey.
"We're very happy with Noah. He's a confident kid who's played a fair bit of footy and excelled in a number of big moments whether it's the Brumbies or us," said Rennie.
"It was good to see him grab his opportunity on the weekend, and that's his job. He's got to do that week after week and while he's young man, he needs to run the ship.
"His game sense and game awareness is really growing – his understanding of how to get us around the park, when to kick us out. I thought he was smart last week and good variety in his kicking and played on top of the defence.
"We want to see that keep growing. He's far from a finished product but making really good shifts."
On contact with Michael Hooper
Rennie said he had been talking with the Wallabies captain who is missing due to mindset concerns.
"I've had plenty of contact with Hoops," Rennie said. "I'm not going to comment around where he's at and what that looks like. We're not looking to include him in the rest of the Rugby Championship and then we'll make decisions beyond that. But certainly not looking to rush him but he's certainly on the improve."
On the lead up to Saturday's Sydney Test
"We've had a really good week. We've brought edge and the leaders have done a great job around driving expectations and we know we're going to need to be better," said Rennie.
"We gave away a lot of penalties last week, and the Springboks weren't able to hurt us, especially in our second 20. They are too good a side for us to give them as many opportunities again.
"We were in this place last year, where we beat Springboks narrowly last minute with a penalty from Quade and we backed up really well. So we know we've done it before. We know what's required.
"They're a high quality side and and they'll be hurting. The fact we're gonna play at the new stadium is fantastic. It's going to be a really exciting venue and  I've been here a few weeks ago to have a look at it. If that's a motivating factor for our boys, great but you know, the fact that we're playing Test rugby at home in front of our family and friends, is plenty of motivation.
"Every Test  is important. We want to get some momentum and so that's why it's good to have continuity in  selection. We've got ourselves in a reasonable position on the table, along with Argentina, so it's a big weekend for all teams in that comp. We want to take confidence and momentum into that Bledisloe series. But our focus is totally on South Africa at the moment."
Rugby – The Roar