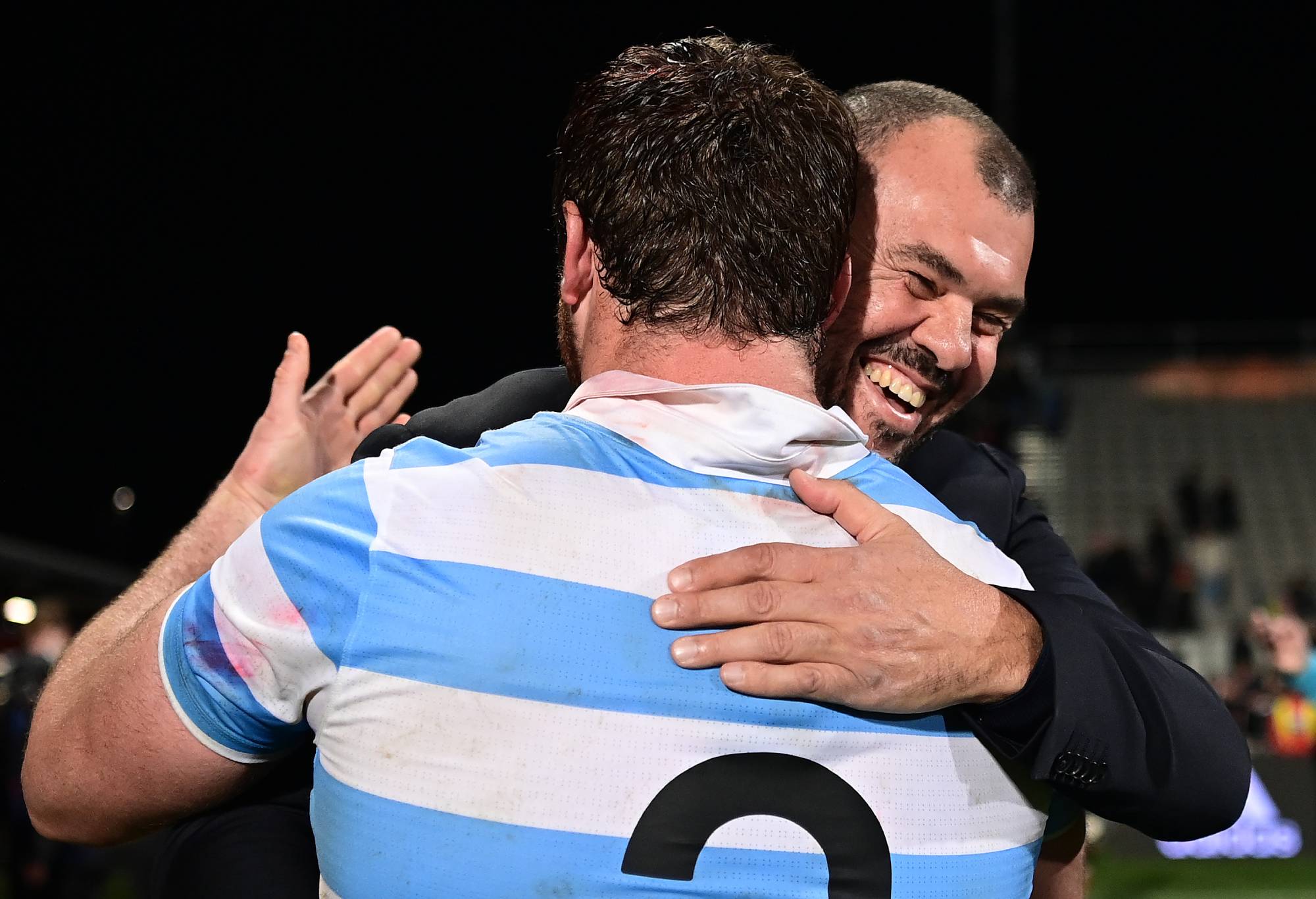 A week after Ian Foster was confirmed as All Blacks coach for the long haul, he was plunged into the spotlight again as the Kiwis lost to Michael Cheika's Argentina on home soil for the first time in their history.
Foster won a stay of execution by beating the Springboks in the second Test, having earlier lost a series at home against Ireland.
The Pumas' 25-18 victory was one of great grit and courage that was celebrated with tears flowing within the camp. It was there second ever against New Zealand in 34 attempts, having won in Sydney in 2020.
Cheika has now knocked over Australia and New Zealand in successive weeks and gives them a shot at winning the Rugby Championship, which they lead after three games each. It was Cheika's first win as a coach in New Zealand and he admitted he fired up his team by pointing out the issues with the Kiwis.
"I think they're guys who haven't won a lot of Rugby Championship games and maybe not a lot of self belief so you've got to bring the technical as well as that part of the game to make them believe in themselves," said Cheika.
"That's a big part because it's going to be difficult and to thrive in the difficult times , not to panic, not to worry about it. When it's bad that's the good time to step up and start playing."
Cheika gave credit to new defence coach, Kiwi David Kidwell.
"He's brought a different appeal and a different spiritual (outlook). He's got a very strong Maori influence and he's brought a lot of that, introduced that to the boys along with the tackling drills," said Cheika.
Cheika added: "We knew we had to bring intensity, we knew they had a bit of pressure on them so we have to try and build on that pressure and then see where the game lands and go from there.
"I don't want to sound corny but you're with your mates, enjoying the game, the ups and the downs , those times, especially for some of these Argentinian boys that's historic for them. I want them to enjoy being in the team getting around playing against teams like this."
Cheika was asked which of the last two wins was more special.
"It's a first for me I've never won a Test match in New Zealand. I don't look at it like that. I look at it from our team and getting them ready for the World Cup. I think about next week, I imagine they're going to come back with every piece of artillery they have and we've got to be able to work out a way to handle it and give something back."
The Australian coach was delirious at the end and had his team right up for the battle.
"We talked about intensity the whole week, about wanting to win more than the All Blacks, showing it with our intensity," said Argentina's star forward Pablo Matera.
"We did it in the game. Look at this it's crazy," he added as his TV interview was overwhelmed by joyous Argentina fans, who he led in song.
Ex All Black Kieran Read said Argentina deserved credit for the quality of their desire.
"There will be frustration there. There will be a lot of soul searching," said Read. "They will have thought they'd turned the corner and that would have said they had a blueprint to move forward. The performance tonight wasn't right up there.
"The Argies got what they deserved. Test matches and are brutal and tough and that's what happens."
Former All Black Mils Muliana said defence won the day for Argentina.
"They stuck in there," he said. "They frustrated the All Blacks. It's a historic moment for them, they've won on Australian soil for the first time and they deserved the win."
Saturday's victory was forged on magnificent defence backed up by iron discipline.
"I'm very proud of our team, we are starting to believe what we can do, not just a magic moment like our first win (in Sydney)," said captain Julian Montoya.
"Very, very happy, very, very proud, it's a very special moment for us."
The boot of winger Emiliano Boffelli, who kicked five penalties, kept them in the contest when New Zealand scored two tries in the first half and kept them ahead after flanker Juan Martin Gonzalez had scored an opportunist second-half try.
New Zealand, who played the last nine minutes with 14 men after Shannon Frizell was shown a yellow card, will almost certainly be plunged back into the crisis that was apparently ended by their victory over South Africa two weeks ago.
Tries from Samisoni Taukei'aho and Caleb Clarke should have given them a comfortable lead at halftime but ill-discipline throughout the match cost them dearly.
"It certainly felt in the first half that we were more dominant in areas than we managed to show on the scoreboard," All Blacks captain Sam Cane said.
"A lot of credit has to go to Argentina for the way they stuck in it and eventually turned the tables."
The victory gives Argentina successive wins in the Rugby Championship for the first time after their impressive 48-17 thrashing of Australia in San Juan two weeks ago.
They also remain top of the championship standings on points difference ahead of Australia, who earlier beat South Africa 25-17 in Adelaide.
Rugby – The Roar