Cowboys youngster Hamiso Tabuai-Fidow missed out on grabbing the game-winning try when his late effort was overturned following a bunker review.
The Bulldogs lost multiple players to head injuries, with Chris Patolo, Braidon Burns, Brent Naden and Jeremy Marshall-King all coming out of the game. Aaron Schoupp was forced to come in late as the 18th man.
For the first time since round 10, season 2017, the Bulldogs are in the top eight.
But it all could've been a different story if Tabuai-Fidow's feet were just a couple of centimetres behind the last-ditch bomb play of playmaker Chad Townsend, with just over two minutes remaining in the match.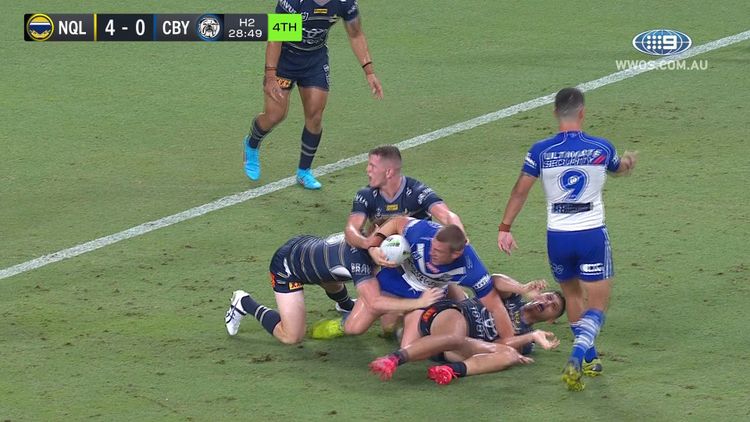 Here's an incredible stat doing the rounds online – the Bulldogs are in the top eight for the first time since Round 10, season 2017.
They fought hard, lost several players, had a couple of tries disallowed but through it all, managed to gut it out for a win.
They nearly had it cruelly taken from them in the dying minutes, but as you can see here, it was the right call – with Hamiso Tabuai-Fidow ruled offside after he thought he'd scored the winning try.
A pretty well-contrasted first Sunday of the year, all in all. The Eels women's team had some late magic to see off the Titans, we had the first men's game featuring 60 points (48 in the first half) and then that arm wrestle to finish.
See you for round two in a couple of days!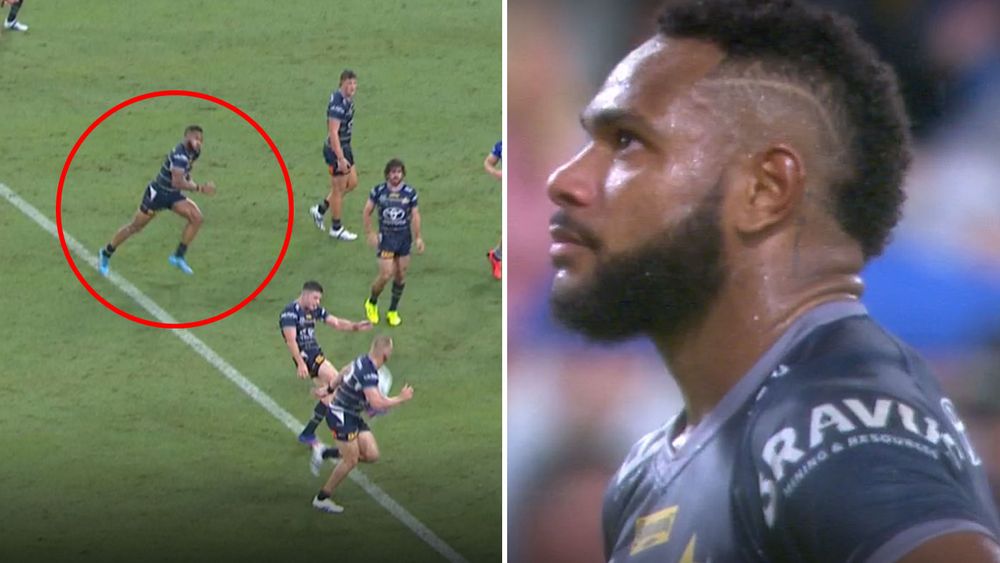 The Bulldogs win on the road
A massive win to start the season for the Bulldogs! North Queensland have one last raid but Coen Hess is tackled on the last with ten seconds on the clock.
What a brave performance from the Bulldogs – they lost multiple players to head injuries, bringing 18th man Aaron Schoupp into the game, but found a way to win while heavily down on manpower.
Incredible – Chad Townsend bombs, Coen Hess leaps highest and taps it back to Hamiso Tabuai-Fidow who dives in under the posts!
The Cowboys celebrate, the conversion is being lined up but Ben Cummins suddenly calls time off – and rightfully so – Tabuai-Fidow was marginally in front of Townsend when it was kicked.
Two minutes left, can the Dogs hold on?