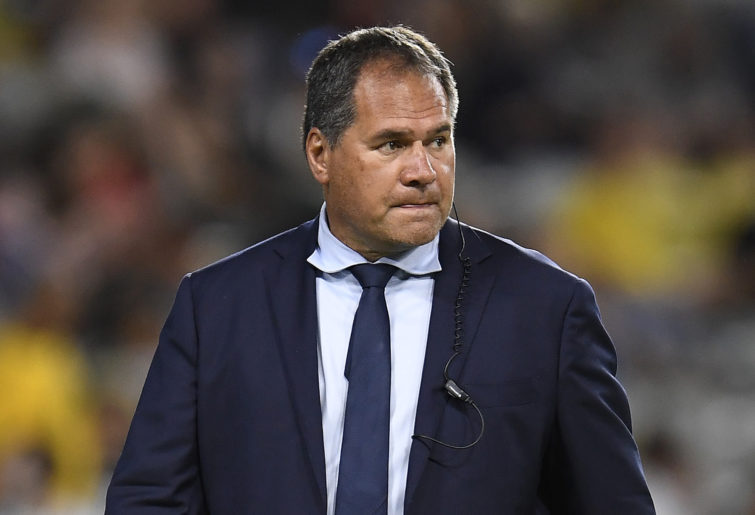 A former CEO and two former national coaches had a crack at their nation's governing body in the last week or so, and the biggest surprise of all is that Australian rugby isn't in the crosshairs for a change.
To say it's been interesting to watch the continued fallout over the Tasman from the Ireland series loss is going to be right up there with the understatements of 2022.
And I don't say 'interesting' in a sinister or even self-satisfying way, it's interesting to watch it from the outside because I genuinely can't remember a saga like the one currently engulfing New Zealand Rugby going on for so long, or being pushed along with every new rent-a-quote, or every new comment from the body itself.
I made the point on Twitter over the weekend that the All Blacks' next win seriously cannot come soon enough. Even then, it's hard to say whether better results on the field will fix – or at least distract – the ongoing issues off it.
The most striking feature of this particular saga is the number of former powerbrokers, people who were hardly immune from criticism themselves in years gone by, who are speaking out.
It may well have happened before, but I can't remember this sort of thing ever transpiring quite like this.
Typically, on the rare occasion when something hasn't gone completely swimmingly for the game in New Zealand more broadly, or for the All Blacks specifically, the resolution has come from within. The wagons have circled, they work it out themselves, and they just get on with remaining at the cutting edge of the game.
This time around, that hasn't happened. This time around, the criticism and the opinions fuelling headlines fuelling commentary fuelling reaction has just kept going, and it's had a very familiar feel about it.
..and I don't say this flippantly, but ex-CEOs and former coaches speaking so scathingly of NZR management is genuine Australian rugby areas.
I'm half expecting a letter penned by ex-Captains next…
— Brett McKay (@BMcSport) July 29, 2022
It was interesting to read Laurie Mains' take on the failings of the Ireland series, and his feeling that Ireland exposed a disjointed-looking Kiwi backline, as France did a year ago.
But he also aired concerns about the succession planning of coaches and whether that's healthy.
"If you keep the same people there all the time, you don't get change, unless those people are capable of making significant changes with their own coaching," Mains said, making particular reference to NZR being seemingly ambivalent toward Jamie Joseph and Dave Rennie in recent years.
It's certainly curious that one of the reported strengths of Ian Foster's proposal to succeed Sir Steve Hansen was the assistant coaches Foster had lined up, relative to those of Scott Robertson. But now John Plumtree and Brad Mooar have been sacrificed, and Robertson's Crusaders forwards coach Jason Ryan – his potential All Blacks assistant – has been brought in and simultaneously prised away from his Rugby World Cup commitments with Fiji.
Blues coach Leon McDonald was widely tipped to come into the setup as well yet for all the acclaim this idea came with, he too was going to part of the Robertson package along with Ryan. Foster had the better assistants, supposedly, yet Robertson's guys now are the answer after all? How does NZR reconcile that with themselves?
"The All Blacks seem to be hiring every New Zealand coach except Scott Robertson," my well-travelled Roar Rugby Podcast co-host Harry Jones observed more than a week ago.
Hansen himself backed Foster – because of course he would – but lobbed a hell of a grenade toward NZR, declaring "the relationship between the board and the exec and players at the moment is probably the worst it's ever been".
Hansen was particularly critical of recent reviews into Foster and now-departed Black Ferns coach Glenn Moore, of the decision to install a new NZR CEO at the same time as a new coach, and of the body's handling of the process to bring American private equity investors Silver Lake into the mix.
"I don't think they're doing their job right at the moment," Hansen said. "You've got a group of eight All Blacks captains coming out and forming a group and went and spoke to them, and 'Kirky' [David Kirk] is in the paper the other day saying they don't feel they were listened to."
Lest they start writing letters, Sir Stephen.
Former NZR boss David Moffett followed Hansen and accused current CEO Mark Robinson of "swanning around in Birmingham" at the Commonwealth Games, while leaving Foster to "stand there and take all the flak". It would be a fair point, if not for the cancelled press conference after the third Test loss.
"Yes, I think he should," Moffett said, asked if he felt Robinson should resign.
So when Robinson did break his silence – from Birmingham – he would have been hoping his decision to speak publicly might be the first step in the natural death of this affair, before it entered a second month.
And he may well have achieved that, until he answered the early and obvious question from Newstalk ZB's Jason Pine – whether Foster was right person to coach the All Blacks through to next year's Rugby World Cup in France.
"He's certainly the person to lead the team to South Africa, and we're making sure they've got everything possible in the way of resourcing and support to make sure that's successful," Robinson replied.
'Wow' doesn't even begin to cover this. I listened back to those first few questions a few times, and faint praise really doesn't come much more damning than what Robinson offered up.
Sports opinion delivered daily 
"Robinson refuses to endorse All Blacks coach Ian Foster beyond South Africa" was the easy and obvious headline.
"Ian Foster is the man for these next two games. After that, good luck" the easy and obvious conclusion.
It's hard to comprehend the notion that of the four SANZAAR nations about to start The Rugby Championship, New Zealand might be the one more likely to have a different coach in France next year. That would have been pure fantasy just a month ago. Yet here we are.
And in background, Scott Robertson just continues to answer questions with incisive honesty.
A win in South Africa, or even two, may be enough to end this mess.
But it certainly feels like there are more than a few comments, reactions, denials and headlines to come.
Rugby – The Roar