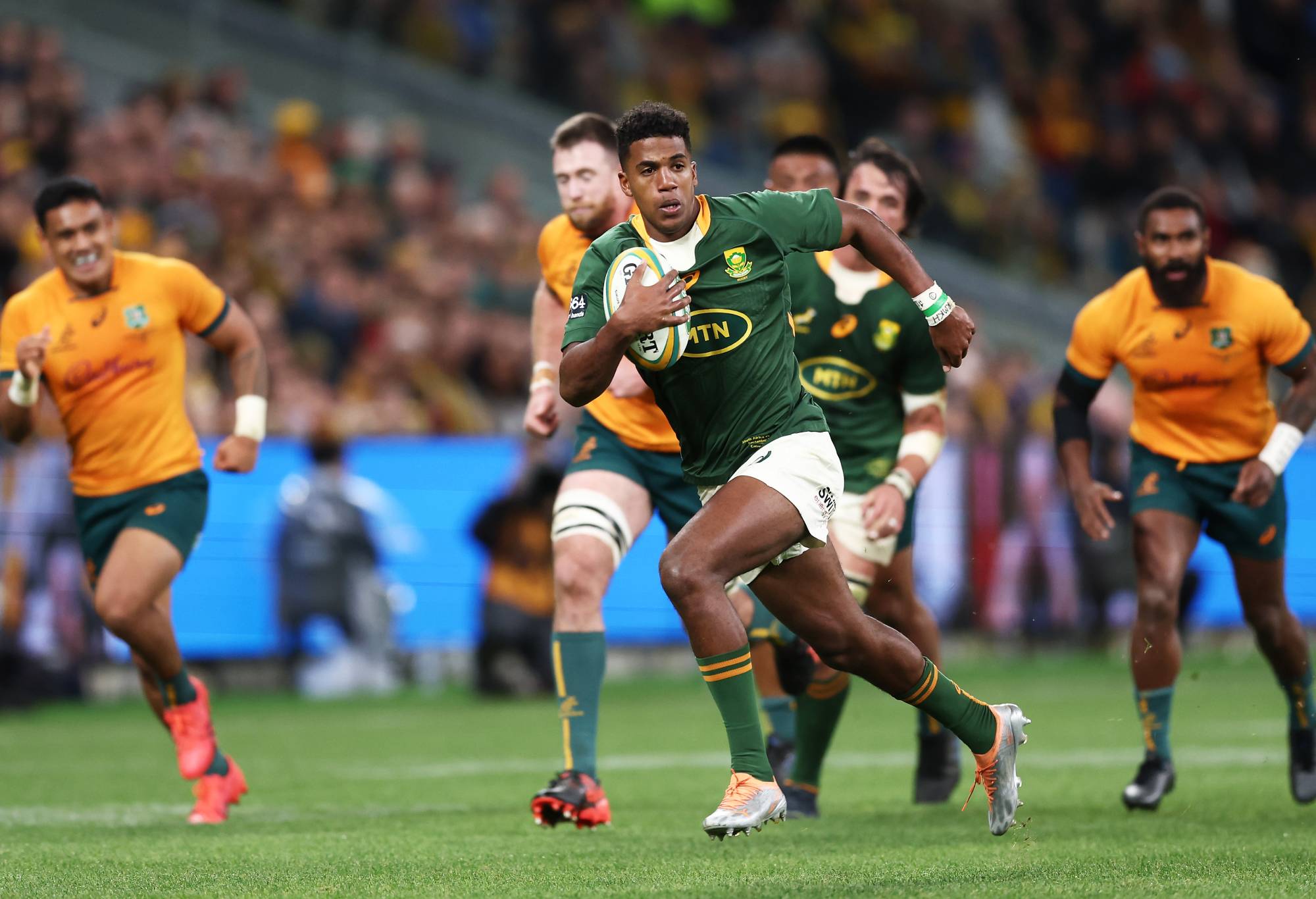 Three times the Wallabies have won opening Test matches against their rivals this year, and three times they've been well beaten the next time out by the same opponent.
Wallabies coach Dave Rennie complained his team "didn't fire a shot" as they were humbled on home turf by a South African team playing with an intent and fire that Rennie's men couldn't match.
"We've got to be better. We've got to win those key contests and and we were well short in that area tonight," said Rennie.
"There are key areas where we've got to be better. And the tempo we needed to play at against South Africa, which we did well last week we couldn't emulate it tonight and it's disappointing."
So, is this inability to find consistent success a Rennie problem, or does he really not have the cattle, as his apologists suggest?
Rennie was in a prickly mood before the game, even coming off a fine win in Adelaide, and this surrender at the new home for rugby in Sydney will have soured it even further.
He went for a 6-2 bench split for the second time in his Wallabies tenure – and second time in two weeks – and it blew up in his face with Noah Lolesio and Hunter Paisami forced off and now in doubt for the first Bledisloe Cup match on September 15 in Melbourne. The game ended with Nic White out on the wing, and a hot mess in midfield.
Perhaps those who's stock rose the highest, on a night where you really had to strain your eyes to find a positive performance in a gold jersey, were Bernard Foley and Kurtley Beale, who have been in training with the squad. What's that about cattle again?
'Man of the match, five stars'
The studs were all wearing green jerseys on Saturday night. Damian Willemse won the man of the match award, but that probably should have gone to Siya Kolisi, who led superbly.
"When you have a forward performance like that, you can't give [MOTM] to a back," said Jim Tucker on The Roar's Instant Reaction podcast.
"Just when Australia were getting a sniff, he'd grab a lovely pilfer, or just when it looked too wet to do anything with the hands, he did a beautiful little pop ball to one of his attackers. Kolisi was outstanding. You need a leader to lead out of that disaster from Adelaide, so Kolisi, my man of the match, five stars."
Harry Jones agreed with Tucker's assessment but was also impressed by Willemse's performance at No.10, standing for injured Handre Pollard. Willemse has been hampered by his versatility at times but was excellent on Saturday.
"He's always had the knock of being the super athlete, great hands, multiple sports, tops in Cape Town. But what was his actual position?" said Jones.
"He had the unfortunate position of being so good at 12 and 15 at the Stormers that he played there to accommodate someone else. He finally he got thrown in the mix and look at him. He was composed."
Jacques Nienaber, the South African coach, took a gamble with eight changes after the defeat in Adelaide and will keep tinkering through to next year's World Cup. On Saturday he unveiled a bright new thing in the form of winger Canan Moodie, whose impact reminded Tucker of another tourist earlier this year.
"I really love seeing a new player come through and Canan Moodie, his expertise, grabbing that high ball on the fly and scoring a try was outstanding," said Tucker.
"This season Australians have seen Henry Arundell from England leave an absolute mark in Perth and now Canan Moodie  We're seeing players who will come through at the World Cup next year who are absolute gems. I want to see an Australian doing the same thing."
Brett McKay summed up Australia's issue in trying to find a beacon of light on a night of gloom.
"Tom Wright was really good under the high ball – and he hasn't necessarily had a good time of it and particularly the second game in Argentina when he was playing fullback," said McKay.
"He probably redeemed himself, and I've got to give Allan Alaalatoa a shout for playing 80 minutes and he actually got better as the game went on. He was having a little bit of impact in his carries, his defence was strong but [good performances] were few and far between from a Wallabies front."
'Blotted out completely'
The Wallabies were a bear market, no doubt, and the cause of their wild fluctuations is open to debate.
For Tucker the issue is "the overall Wallaby psyche where they need an absolute rocket to get up to win games.
"And just their ability to fluff their lines. This is the opening of a new stadium. The whole of Sydney wants to get behind the Wallabies and what do they give them? Absolutely nothing.
"So the Wallabies have beaten England, Argentina and now the Boks in their first game. And a week later lost to the same team. There's no consistency and you can't hope to get that wonderful wave [of support] behind you if you don't win consistent matches."
"The Wallabies weren't able to play any meaningful football and that involves two sides. The Boks blotted them out completely. Then we got into this ridiculous thing in the second half where, okay, we've got to play territory so we kick it away. Oh, we don't have any ball at all. That all comes back to how South African played."
Rennie lamented the kicking games of Nic White and Reece Hodge after the match, suggesting they hadn't executed his plans well enough.
But he sent out a team against one he must have known was seething after the events of Adelaide and they were limp in response.
"Wonderful stadium, fireworks. good looking crowd. The food is amazing and very expensive," said Jones. "The crowd was so hyped up and then it was 20 minutes of nothing. Just nothing."
Jones said Rory Arnold's performance summed up the Australians issues.
"Rory Arnold is one of the three that is selected under the Giteau Law so you really have to do a little bit plus. You have to be even better to justify one of those," said Jones.
"He missed some tackles where he was reaching a lot on those tackles. There was no commitment factor for me.
"A lot of the collisions were really unbelievable. You need the biggest guy in your team, the six foot 10 guy, on that sort of night to say 'okay, guys, we're gonna them around and repel them."
It was a tough night for the Giteau Law picks as Marika Koroibete followed up his stunning MOTM effort in Adelaide with a big downgrade.
He was suffering a cork that left him hobbling, but was embarrassed for Moodie's try and then suffered the indignity of having Makazola Mapimpi score through him to seal the game.
McKay was also critical of the Australian loose forwards.
"I think the back row connection was really off," he said. "There just wasn't any. It didn't really seem like McReight and Valetini and Holloway were playing in unison like we've seen in recent weeks anyway."
Who were your studs and duds from Saturday's Test?
Rugby – The Roar