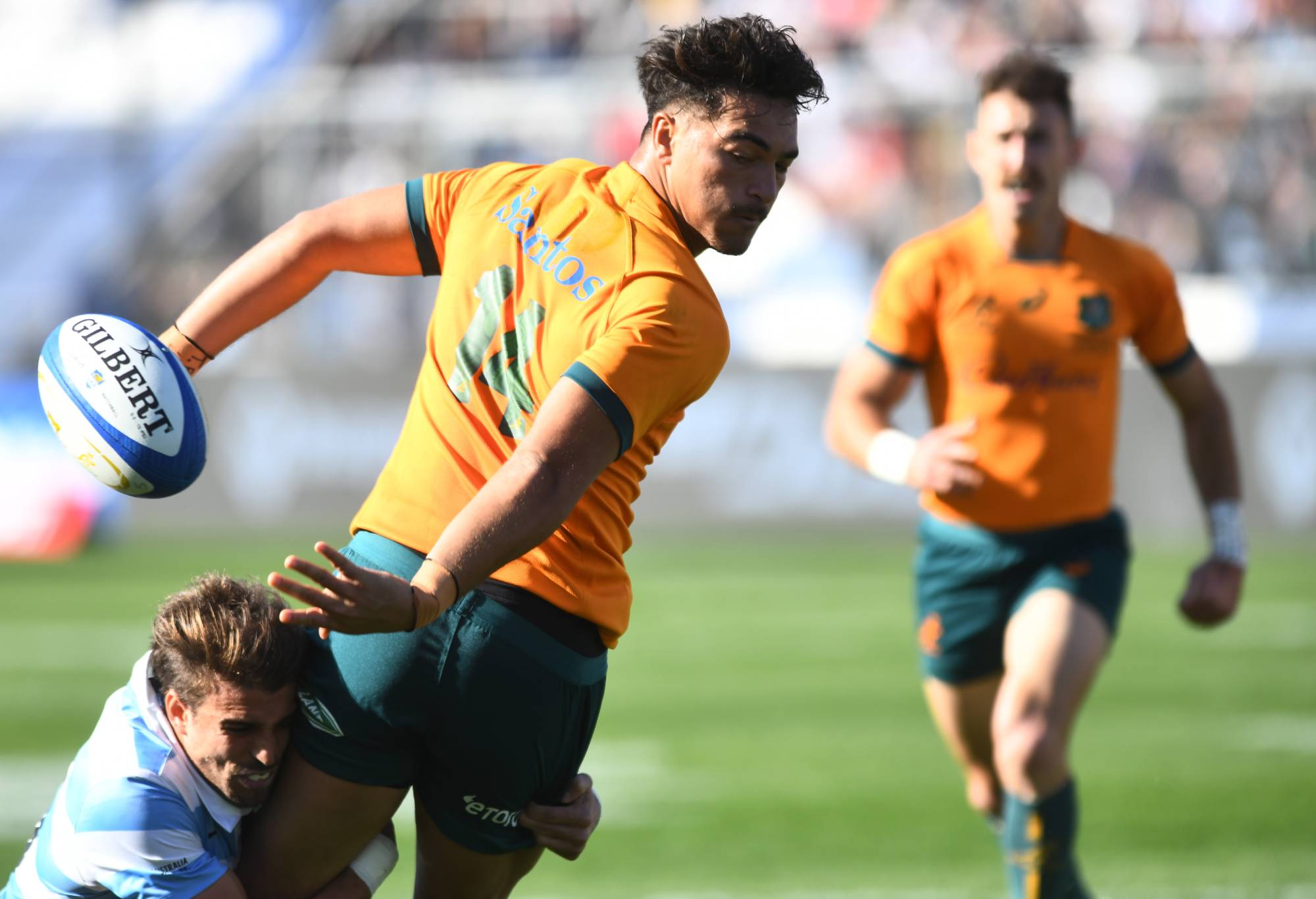 Wallabies, we have a problem. There were so many off-key parts to their game in the San Juan crash landing that it may be unfair to pick on just one element.
But, we will.
Fullback. You don't have to look up the dictionary definition to know it says "specialists are always better than experiments, top wingers and hopeful Harrys."
You have to feel for coach Dave Rennie because there isn't a perfect solution staring him in the face.
The All Blacks could pick Jordie Barrett, Beauden Barrett or Will Jordan in the key slot and be guaranteed of a better option than the Wallabies can currently muster.
You have to own the air as a Test fullback. Tom Wright didn't against Argentina.
For sure, he had teammates being out-jumped for contestable kicks as well but you want a fullback pushing teammates out of the way to climb into the sky to defuse high balls.
Don't look to Jordan Petaia as a solution. He'll be better at leaping for high balls with authority and they will definitely rain from the boots of Springboks at Adelaide Oval on August 27.
That quick release kick to touch and positioning of the best fullbacks is still a major work-on for him.
Petaia did the Wallabies no favour with his dire option just 60 seconds into the Test in San Juan. He retrieved a kick ahead OK but needed to go to ground and cop a trampling so his side's defence could re-set.
The flip ball back to poor Wright was a hospital pass and the swarming Argentinians scored from the bobbling ball.
It was a perfect example of how to gift momentum to a home side pumped to the eyeballs by a big crowd and a rousing rendition of the national anthem, complete with on-field violins.
It reminded this writer very much of that stupid Kurtley Beale cutout pass near his own line that was intercepted in Port Elizabeth in 2018. That gifted try came after just 24 seconds and the Wallabies were chasing the game from that moment.
Andrew Kellaway, last year's big discovery, may be ready to return from injury for Adelaide but he's a far better winger than fullback.
Jim Tucker joins Brett McKay and Harry Jones for an instant reaction to the loss in San Juan. Stream here or in your favourite podcast app
So where does that leave the Wallabies? Tom Banks is gone with injury. Reece Hodge spills too many high kicks and doesn't offer enough dynamism in attack. The single specialist fullback option is Jock Campbell.
Wallaby great David Campese has been calling for Campbell to start in the gold No.15 jersey since the start of the season.
Campbell is not a burly physical type but he did some good things for Australia A in Fiji recently. Importantly, he looks like a fullback every time he plays…in position for the high ball and always sizing up where to strike with the footwork that so often beats the first defender.
He deserves his shot.
Come September, we may well be talking again about Kurtley Beale being a fullback option. His hamstring should be road tested by then for a possible return against the All Blacks. Give me a specialist fullback every time.
The Wallabies conceded four tries to kicks in behind, both clever nudges and that high kick before half-time which the Aussies let bounce.
"We want to earn the respect of the country and you don't do it like that," Rennie said just minutes after the Test when the defeat was still raw.
Please, give ample credit to the Pumas. They played superbly.
The kicking barrage was pinpoint, there was real venom to the forward carries and the backs were sharp.
The Argentinians had a tough time of it during COVID. The rug was pulled out from under their Super Rugby side and they continually played Tests on the road.
That said, they have still beaten the All Blacks, Wales, Scotland and now Australia since the last Rugby World Cup.
They again look like a serious World Cup wildcard for France next year.
They sit in Pool D with England. The Pumas are good enough to knock off the English because they have a pack that won't be bullied.
It would be enough to beat Japan and Samoa in the same pool to advance to the quarter-finals.
Now wouldn't that be a Michael Cheika moment. He couldn't beat old mate Eddie Jones with the Wallabies in 2019 but he may go to France with a better chance to derail Eddie with the Argentinian side he now coaches.
Rugby – The Roar