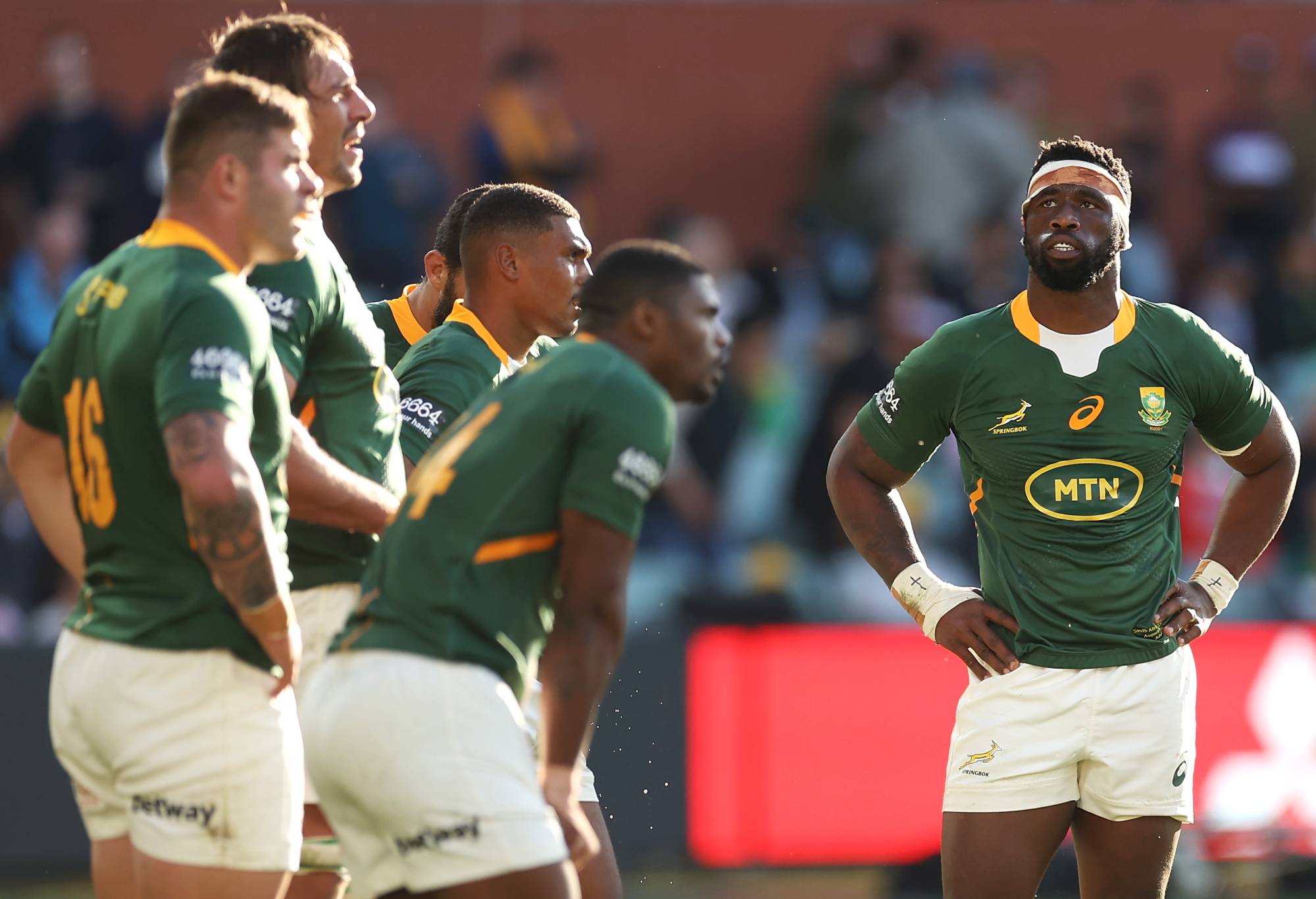 Rows A-J of the East Stand of the suddenly sun drenched Adelaide Oval were baking hot.
A tall and chiseled South African rugby fan in Row F, just behind us, had a springbok painted perfectly on each perfect cheek.
After ten minutes, his cheek art had melted and blurred into a Goyalike mess, he had turned into a swearing machine, and the Bok team had bequeathed a 10-0 lead to the Wallabies.
Adelaide is not a rugby haven. On the flight from Sydney, a salaryman behind me was talking to his partner: "Apparently the Wallabies are playing someone this weekend?"
After the Springboks lost, we tried to catch the All Blacks match on a TV screen in the one hundred TV casino or an 8-screen 'sports bar' near our hotel. No-one had Stan Sport. We just used my phone to watch, propped on a flimsy pizza box.
Even the pizza was annoying to me. It folded like Lood de Jager on Malcolm Marx's shoulders. Lood spent more of the match upside down than right side up.
But inside the Oval, the sound of Wallaby support was a swell of national pride and fury. That type of Australian start, built on crisp passes, direct running lines, and zealous tackling (as well as superb goalkicking by Noah Lolesio) kept the crowd loud.
Roar rugby experts Brett McKay, Jim Tucker and Harry Jones and editor Tony Harper come together for the post-mortem after the Wallabies' incredible 25-17 win over South Africa as well as Argentina's historic 25-18 win over New Zealand in Christchurch
In the first half, I sarcastically lost my mind applauding the lone penalty slotted by Handre Pollard. The profligate visitors had 11 chances to score points in the first 40 and took only one. The hosts had three and took two. A 10-3 scoreline felt both fair and also a bit misleading; at the very same time.
In warmups, Pollard's strikes were as pure as Joseph Dweba's throws were not. But he shanked his first effort and shaved the second. In a Test which swung in momentum, it was deflating to have to work so hard and long for just three points.
If the Wallabies were surgical, the Boks were pre-Nightingale medics just chopping limbs without antiseptic. If the Wallabies were a space shuttle, the Boks were a coal train. If the Wallabies were laser-guided missiles, the Boks were a bazooka. Even if the penalty count was 15-9 in the Boks' favour, there was never a sense of the visitors taking this match after Makazole Mapimpi failed to slide early and in to make it 10-10.
The Wallabies were up for it: from the first kickoff, James Slipper took his lessons from San Juan, Matt Philip outworked all forwards, Fraser McReight was a livewire and Noah Lolesio was a metronomic kicker and a clever passer.
Everything Marika Koroibete did came off perfectly; even if his suggestion of an arm might not have sufficed for some referees. He is the most improved Wallaby over the last two years, I think.
A blemish on this great win in he sunshine at the Oval on a brilliant afternoon was the soccer antics of Nic White. He is better than that.
Who is NOT better: Duane Vermeulen did not look any better than he did at Ellis Park. Frans Steyn is lumbering; even if his boot is still a key Bok weapon. Dweba is the third player who needs to go get game time at the club level, first.
But it is coach Jacques Nienaber who is not getting better, at all.
He needs a new attack coach, and he needs new ideas, and he needs the humility to admit that.
Watching Argentina beat New Zealand at Christchurch, I saw a new, fresh coaching unit making better use of their talent.
Ian Foster, like Nienaber, may have been promoted prematurely.
A wonderful set of wins for Australia and Argentina.
Adelaide flowed with love and joy after the victory; casinos were full and there was dancing in the streets.
Rugby – The Roar