New Zealand Rugby's (NZR) newest Team in Black, the All Blacks XV, will embark on a 3-week global tour playing in North America, the UK and Europe. The match will once again showcase the stadium's ability to take the hosting of world-class sporting events to the next level .
With weekend fixtures aligning with the All Blacks End of Year Tour in the UK we've got options to add on an All-Blacks XV fixture to your package. The final schedule for the All Blacks XV 2022 Northern Tour will be announced in the coming weeks, with each match launching separately.
The clash against the All Blacks XV is the first of four upcoming matches for the Barbarians (BaaBaas) who will also face Harlequins (Thursday, 17 November), Bath (Sunday, 20 November) and Northampton Saints (Saturday, 26 November).
All Blacks XV vs Barbarians | 12 November 2022
All Blacks XV vs Harlequins | 17 November 2022
All Blacks XV vs Bath | 20 November 2022
All Blacks XV vs Northampton Saints | 26 November 2022
Rugby fans will have the rare opportunity to watch the most famous invitational club in the world face an All Blacks XV on Sunday 13 November 2022 in the world-class setting of Tottenham Hotspur Stadium – the first-ever international rugby union match to be played there.
The two famous sides will compete for The Killik Cup. It is the next opportunity to see the Barbarians in action following a successful summer with emphatic back-to-back wins over England and Spain.
Read More: Australia Kangaroos face to NZ Kiwis RLWC 2022 Semi-finals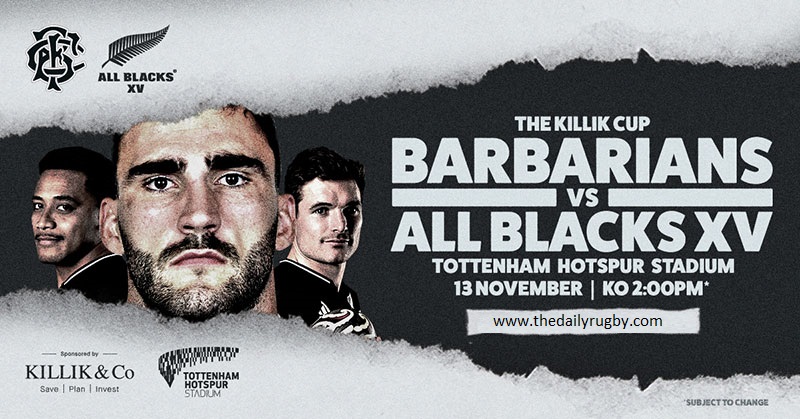 Players from across the world will come together in the week leading up to the fixture to unite international playing styles into one formidable Barbarians squad.
The Barbarians and New Zealand have quite a history, with this match coming within months of the 50th anniversary of arguably the most famous match in the life of the Club – that of January 1973, which saw the late Phil Bennett pull off an incredible run to set up Gareth Edwards' famous try during a 23-11 win over the All Blacks.
In the Barbarians' recent match against England at Twickenham – which the visitors won 21-52 – the squad formed a 10 on the pitch during a moment's applause in recognition of "Benny", often considered the ultimate Barbarian.
All Blacks superstars such as Zinzan Brooke, Christian Cullen, Jonah Lomu, Justin Marshall, Carlos Spencer, Joe Rokocoko, Richie McCaw, Ma'a Nonu, Jerome Kaino, Sonny Bill Williams, Charles Piutau, Steven Luatua, Richie Mo'unga, TJ Perenara, to name but a few, have pulled on the famous Black and White to play for the invitational side. The Barbarians have played the All Blacks 12 times, with eight wins to New Zealand, two famous wins for the Barbarians and one match resulting in a draw. The latest chapter in the storied rivalry will mark an historic first match between the Barbarians and the All Blacks XV.
Read More: World Cup final Black Ferns at England (Women's) at Eden Park