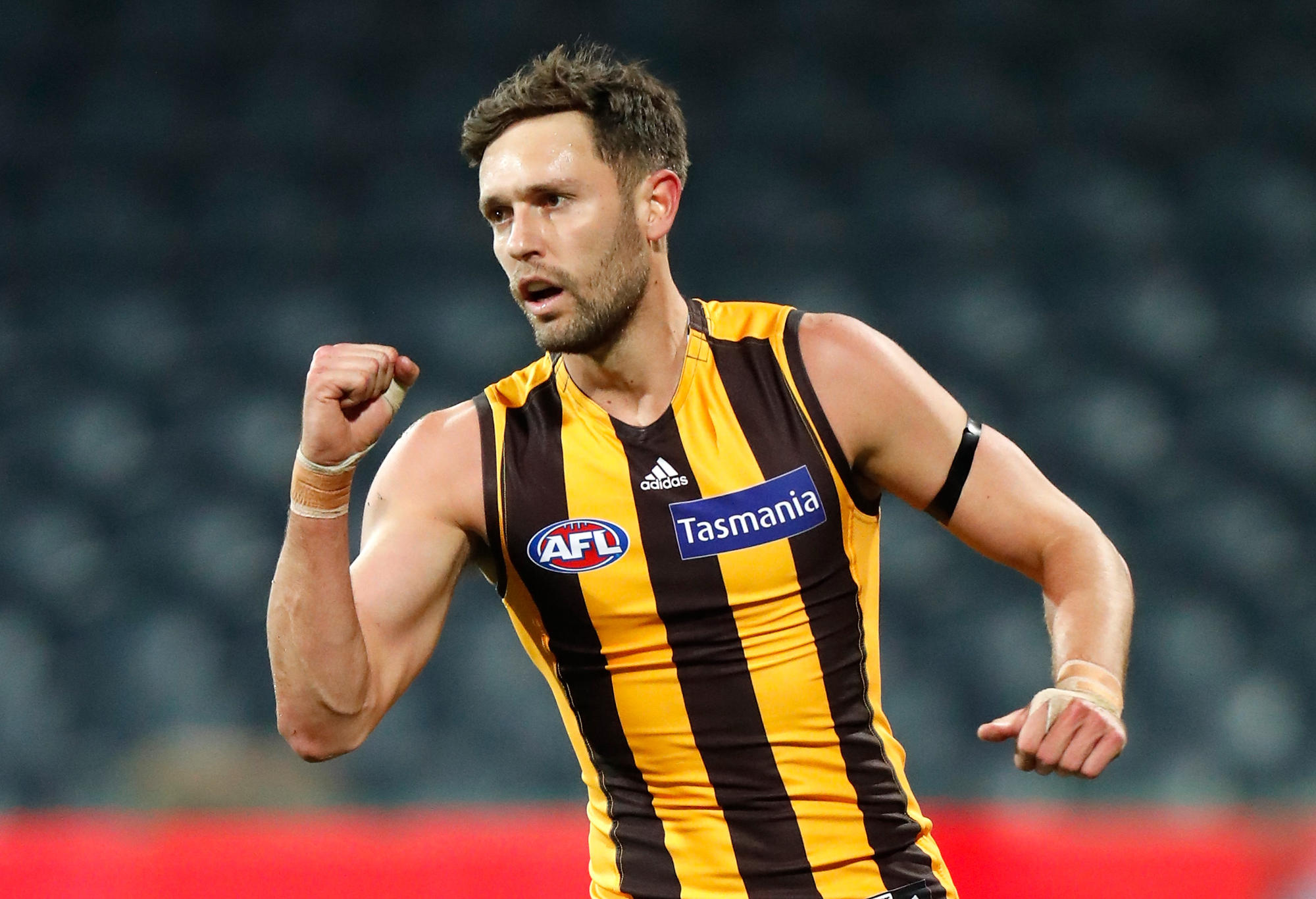 Incoming North Melbourne coach Alastair Clarkson has continued to unveil his vision for the Kangaroos, admitting he's already speaking with potential recruits.
Clarkson says he' has "crossed paths with one or two" players from other clubs, although he added no discussions had been of great depth.
But asked if he would target players he had coached as well as experienced talents to bolster the young list, Clarkson confirmed he was interested but would also look for existing Kangaroos players to step up.
"I think a couple will help," he told Fox Sports.
"We need a couple of guys around that 27, 28-year-old bracket … but some of the guys like (Aidan) Corr and (Ben) McKay and even (Nick) Larkey, these guys are sort of mid-20s and in a couple of years … they're gonna be the guys that you build your club around."
North have already been linked with former Clarkson players Bradley Hill, who has three years left to run on a big-money deal at St Kilda, and Jack Gunston, who is a free agent.
They will also be bolstered by the return of inside midfielder Ben Cunnington, who played one game in 2022 while battling testicular cancer.
The Kangaroos will also hope to retain No.1 draft pick Jason Horne-Francis, who has been been linked with a return to his home state of South Australia, despite having only spent one year with the side.
Clarkson said he hadn't yet spoken with Horne-Francis, but saw his challenging first season as an opportunity to grow.
"He's probably been a star right through his juniors and he's got to an environment where they weren't going so well, he wasn't performing to the levels that he's been so used to throughout his junior career.
"This will be a great learning year for him and hopefully with a bit of guidance, another pre-season, a realisation that despite being the No.1 draft pick, this game is pretty hard.
"He's got a long journey ahead, hopefully all at the North Melbourne footy club."
Clarkson also addressed rumours he would bring a number of backroom staff with him to North Melbourne, saying they weren't accurate.
But he said he would like to bring former Melbourne great Todd Viney to the club in a football director role.
"It's important you have a really strong team of people around you, but that's not going to be a huge team, all this speculation about a whole uplifting of staff at North Melbourne and bringing in a whole new crew of people isn't actually right," he said.
"We'll try to take a couple of people to North Melbourne, but by and large, the improvement of that footy club is going to come with the people that are already there."
Carlton can bounce back, says CEO
Carlton are reeling after throwing away their AFL finals berth in catastrophic fashion but chief executive Brian Cook hopes the heartbreak can hold the Blues in good stead.
Carlton sat in the top-eight all season and appeared primed to end a nine-year finals drought.
Then, in the space of nine days, the Blues slipped to a last-ditch loss to Melbourne, before capitulating to Collingwood by a point on Sunday.
The Blues led by 24 points at three-quarter-time but kicked 0.6 to the Magpies' 5.1 in the last quarter to send their arch-rivals into the top-four, while falling outside the eight themselves.
"It really hurts at the moment. We went back to Ikon Park last night, the families, players, staff. The players are completely devastated – we're all devastated really," Cook told SEN Breakfast on Monday.
"We wanted to play finals footy, we fought really hard to do that, but we were unsuccessful.
"In the end, when it comes down to it, we threw away a couple of games, we didn't play well in the key moments, the most accountable moments and we have to live with that. You need to live with that for a while.
"I don't think we will forget about this moment and hopefully it will be a motivator in the years to come."
Cook was at Geelong when Sydney's Nick Davis broke their hearts in 2005, before the Cats had their own breakthrough in 2007.
"Whilst at the time (those moments are) devastating, they do build up some sort of resilience," he said.
"It happens for a reason and so long as we can learn from what's happened the last couple of weeks in particular, then it's worthwhile
"But at the moment it's really hard to be rational about these things. We're still wiping the dirt off our knees at the moment and trying to think about where we go from here."
Cook felt Carlton's season was generally positive, noting they beat four of the top eight sides and lost by less than a goal three times. "There's capability there and there's talent there," he said. 
Riewoldt delivers high praise for Kingsley
Former St Kilda champion Nick Riewoldt says he learned more about forward-line play from new GWS coach Adam Kingsley than any other AFL mentor. 
It's some praise from a man who kicked 467 goals before Kinglsey joined the Saints in 2011 as an assistant coach before finishing his career with 716 majors.
Riewoldt was one voice in an outpouring of approval when the Giants announced Kingsley had won the role on Monday after a 15-year coaching apprenticeship finally netted him a lead job.
Kingsley will be unveiled as GWS coach on Tuesday, a moment that will continue to bring joy to his former protege.
"When I heard the news I couldn't wipe the smile off my face," Riewoldt told Fox Sports.
"I'm genuinely so happy for Adam, he has done the most remarkable apprenticeship.
"He arrived at St Kilda at a time when as a player and a group, (we) needed fresh minds, fresh voices.
"He taught me more about forward play and forward craft than than any other coach I'd had at any stage.
"For a guy that played back pocket and midfield predominantly, I think that says a lot about his ability to see all parts of the game.
"Great communicator, great motivator will be able to challenge strongly and understand what it takes to bring a great team together."
Collingwood coach Craig McRae was another high-profile figure thrilled for Kingsley, having coached with him at Richmond.
McRae had a similarly long wait for a senior role, but if his brilliant first season with the Magpies is anything to go by, the Giants might be onto a winner.
"I'm rapt for 'Kingers' … he's had a long apprenticeship, similar to myself, I think 15-odd years in the system," McRae told Fox Sports.
"I worked with him for three or four years at Richmond, he's gonna be a huge asset for GWS.
"He's got a huge footy, enormous footy brain and he's a strong leader."
Rugby – The Roar