The 2022 Rugby League World Cup, known as the 2021 Rugby League World Cup due to it being postponed from its original schedule last year, will run from October 15 to November 19 2022 in England.
For the first time the Rugby League World Cup will be run in parity with the women's and wheelchair tournaments with all participants being paid the same, while all 61 matches across three tournaments will be broadcast live.
RLWC 2022 Opening ceremony
The Rugby League World Cup men's tournament opening ceremony will take place at St James' Park in Newcastle on 15 October 2022.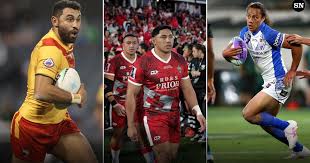 World cup Rugby League Pre-tournament matched
Pre-tournament practice matches will take place the week before the first group stage match of the World Cup.
Rugby League World Cup fixtures
| | | | |
| --- | --- | --- | --- |
| Date | Fixture | Time (AEDT) | Venue |
| Sun Oct 16 | England vs Samoa | 12:30am | St James' Park |
| Sun Oct 16 | Australia vs Fiji Bati | 5:30am | KCOM Stadium |
| Mon Oct 17 | Scotland vs Italy | 12:30am | Kingston Park |
| Mon Oct 17 | Jamaica vs Ireland | 3am | Headingley |
| Mon Oct 17 | New Zealand kiwis vs Lebanon | 5:30am | Halliwell Jones Stadium |
| Tue Oct 18 | France vs Greece | 12:30am | Keepmoat Stadium |
| Wed Oct 19 | Tonga vs Papua New Guinea | 5:30am | Totally Wicked Stadium |
| Thu Oct 20 | Wales vs Cook Islands | 5:30am | Leigh Sports Village |
| Sat Oct 22 | Australia Kangaroos vs Scotland | 5:30am | Ricoh Arena |
| Sun Oct 23 | Fiji bati vs Italy | 12:30am | Kingston Park |
| Sun Oct 23 | England vs France | 3am | University of Bolton Stadium |
| Sun Oct 23 | New Zealand vs Jamaica | 5:30am | Headingley |
| Mon Oct 24 | Lebanon vs Ireland | 1:30am | Leigh Sports Village |
| Mon Oct 24 | Samoa vs Greece | 4am | Keepmoat Stadium |
| Tue Oct 25 | Tonga vs Wales | 6:30am | Totally Wicked Stadium |
| Wed Oct 26 | Papua New Guinea vs Cook Islands | 6:30am | Halliwell Jones Stadium |
| Sat Oct 29 | New Zealand vs Ireland | 6:30am | Headingley |
| Sun Oct 30 | England vs Greece | 1:30am | Bramall Lane |
| Sun Oct 30 | Fiji vs Scotland | 4am | Kingston Park |
| Sun Oct 30 | Australia vs Italy | 6:30am | Totally Wicked Stadium |
| Sun Oct 30 | Lebanon vs Jamaica | 11pm | Leigh Sports Village |
| Mon Nov 1 | Tonga vs Cook Islands | 1:30am | Riverside Stadium |
| Mon Nov 1 | Samoa vs France | 4am | Halliwell Jones Stadium |
| Tue Nov 2 | Papua New Guinea vs Wales | 6:30am | Keepmoat Stadium |
Knockout stage
Quarter finals
Date
Fixture
Time (AEDT)
Venue
Sat Nov 5
TBC
6:30am
John Smith's Stadium
Sun Nov 6
TBC
1:30am
Anfield
Sun Nov 6
TBC
6:30am
KCOM Stadium
Mon Nov 7
TBC
1:30am
University of Bolton Stadium
Semi-finals
Date
Fixture
Time (AEDT)
Venue
Sat Nov 12
TBC
6:45am
Elland Road
Sun Nov 13
TBC
1:30am
Emirates Stadium
Grand final
Date
Fixture
Time (AEDT)
Venue
Sun Nov 20
TBC
4am
Old Trafford